A Batik Air Airbus A320 bound for Jakarta suffered a "technical" incident involving its landing gear, which reportedly led to its nose gear rotating 90 degrees sideways.
The aircraft, registered PK-LUT, was operating flight ID6803 from Jambi's Sultan Thaha airport to the Indonesian capital on 6 March when the incident occurred.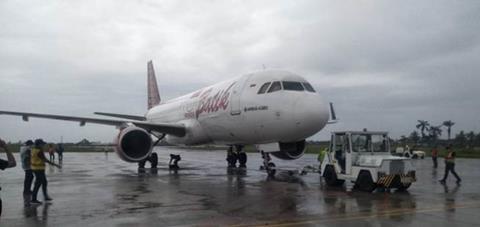 Batik Air states that the aircraft, which was carrying 117 passengers and six crew, was deemed fit for flying, and had taken off from Jambi.
Shortly after, the pilot elected to return to Jambi, after cockpit indicators showed a "possible technical issue". The aircraft landed around 25 minutes after departing and came to a stop on the runway.
While the airline did not disclose what exactly the issue was, various media reports have suggested the aircraft's nose gear had rotated 90 degrees sideways. Eyewitness accounts also reportedly saw fire, sparks and smoke from the nose gear when the aircraft came in to land.
Batik Air, which is the full-service unit of the Lion Air Group, states that there were no injuries, and that all passengers and crew were evacuated safely.
It added in a 7 March update that its engineering team had flown to Jambi to assist in extricating the aircraft. Nearly three hours after they began, the aircraft was successfully towed to a parking bay for further investigations.
Batik Air states that the incident is now being probed by the country's aviation safety authorities, and that it would extend its fullest cooperation in investigations.
Cirium fleets data shows the aircraft was delivered to Batik Air in 2017, and was briefly parked in storage for in March and May last year, amid the coronavirus pandemic.