Local authorities confirmed that at least 14 people on board a Bek Air-operated Fokker 100 were killed when it crashed just after take-off at Almaty International airport in Kazakhstan.
Flight Z92100 was headed for Nursultan Nazarbayev international airport, and Almaty airport said on its social media feed that the aircraft was carrying 95 passengers and five crew members when it lost attitude at 07:22 local time.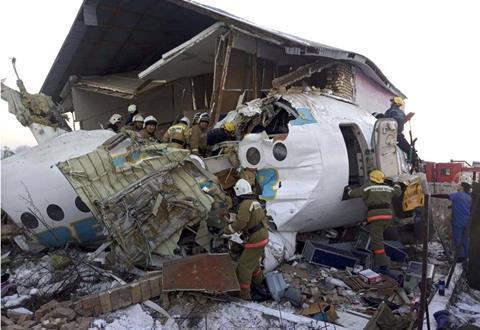 At least 35 survivors were evacuated, including 22 in critical condition.
The Associated Press reports that the aircraft hit a concrete fence and a two-storey building. There was no fire, and rescue operations commenced immediately after the crash.
Images from social media show rescue workers searching through rubble.
Unverified data from flight-tracking websites suggest the aircraft is the 1996-built MSN11496 which, according to Cirium fleets data, was formerly operated by Taiwan's Formosa Airlines and Mandarin Airlines.
Bek Air has eight other Fokker 100s in its fleet, all acquired second-hand from various carriers and between 24 and 30 years old.