Berlin-Brandenburg airport will close completely on 25 January due to a nationwide strike by public service workers that will make operating flights from the airfield impossible.
The airport authority, Flughafen Berlin Brandenburg GmbH, said on 23 January that about 300 aircraft movements and 35,000 passengers will be affected.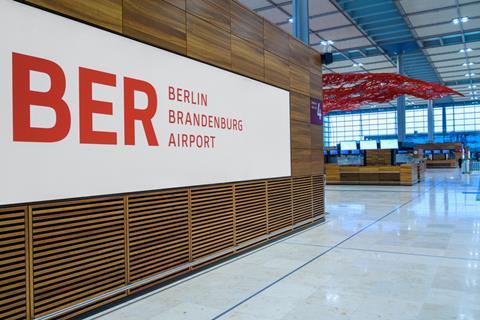 "Due to the warning strikes at the Berlin Brandenburg airport that have been announced, no passenger flights will be possible on 25 January," the company writes. "The airport authority has officially informed its partners such as airlines, ground handling companies, security companies and airport-based businesses this evening."
The strike was called by the Verdi trade union, which represents 2.5 million public service workers across Germany and is now negotiating a new contract with federal, state and local governments. The union has cited "frustration" with the process and a "tense atmosphere" between employees and employers due to staff shortages and workers "being left alone with a growing mountain of tasks".
"Personnel in public service of the federal and local governments are seething," Verdi chairman Frank Werneke says. "Employers must know: the workforce will not be satisfied with warm words and a bad result in the collective bargaining round."
Berlin-Brandenburg, located southeast of the German capital, has a long and troubled history. The airport development project was launched in 1996 but years of financial issues hampered its construction, and costs skyrocketed. Design and building flaws, and numerous management changes slowed completion, and just a few weeks before its planned commissioning in June 2012 a series of safety-inspection failures prompted authorities to abruptly halt the opening.
In early 2020, eight years after its proposed completion, the coronavirus pandemic threatened to derail the facility's opening again. The airport finally opened to commercial passenger flights at the end of October 2020.
Berlin-Brandenburg made headlines again in recent months, experiencing post-pandemic growing pains coupled with a rapid rise in passenger demand following the Covid-19-driven downturn. Understaffing at airlines and the airport contributed to operational headaches. During some high-volume periods, passengers were advised to arrive at the airport up to 4h before flights to ensure sufficient time to check in and clear security.
Baggage handlers and ground operations staff at Dusseldorf airport in western Germany are also preparing to strike "in the coming days", raising fears that the Easter and spring break travel season, which begins in March, may become chaotic.