Embry-Riddle Aeronautical University has landed a $5.1 million donation from Boeing to support an aviation safety centre at the school's campus in Daytona Beach, Florida.
The university disclosed the donation on 23 March, saying the aid will help fund "independent research aimed at mitigating known and emerging operational safety risks".
The Boeing Center for Aviation and Aerospace Safety will "provide a neutral, level-playing field where companies can share their best ideas and undertake objective research," says Embry-Riddle president Barry Butler.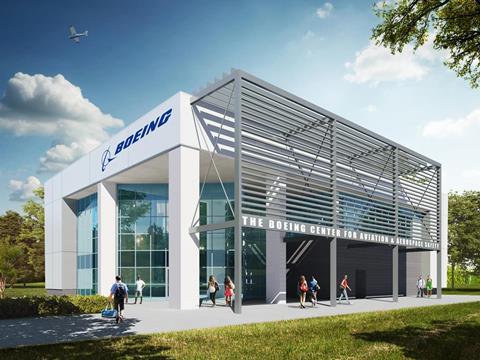 Boeing's support comes at a "critical juncture in the history of aviation", Barry adds, noting the skies are rapidly becoming more crowded and citing "recent events here in the United States".
Those events include a string of close calls involving commercial aircraft at US airports in recent months, including near-accidents at New York's John F Kennedy International airport and at Austin-Bergstrom International.
"There is more work to be done," Barry says.
Embry-Riddle revealed in 2022 it was opening what it then called its Aviation and Aerospace Safety Center. It then also hired former National Transportation Safety Board chair Robert Sumwalt as the centre's executive director.
Sumwalt will continue heading the centre, with assistance from Kristy Kiernan, an Embry-Riddle associate professor and programme coordinator of its master's in aviation safety programme.
The programme will be located in a facility that is currently being renovated and is expected to open this autumn. It "will provide an infrastructure for systematically investigating and reducing safety risks, from technological challenges to human factors", Butler says.
The centre will enable collaboration between the aviation industry, government and academia, and provide students with "real-world exposure to the industry through hands-on research projects that will benefit all who depend on air transportation", Embry-Riddle says.
Researcher at the centre will investigate topics including "runway safety, safety management systems, risk management [and] the safe integration of new entrants into the global airspace system", according to the school. Other topics of study will include "data analytics to predict and potentially prevent safety incidents".