Boeing has paused deliveries of its 737 Max narrowbody as it fixes an electrical issues that forced airlines to temporarily pull some of their aircraft from service.
The Chicago-based airframer says on its quarterly earnings call on 28 April that the issue, identified earlier this month, will likely take "a few days" per aircraft to fix.
In the meantime, the company is holding back on delivering Max to customers.
"We have paused deliveries," says chief executive David Calhoun. "This will make our April deliveries [figures] very light."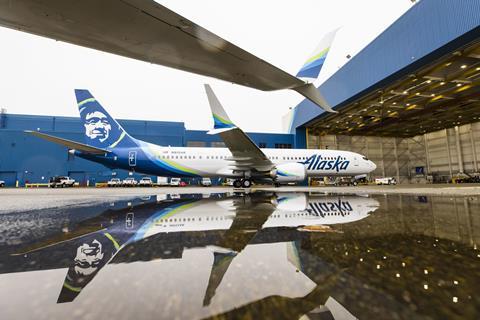 Chief financial officer Greg Smith adds that Boeing still has about 400 aircraft in its inventory – backlogged from the jet's almost two-year grounding – and the company still hopes to deliver half of those by the end of 2021.
The issue, which Boeing disclosed on 8 April, involves "potential degradation of bonds associated with electrical grounding of equipment that could affect the operation of certain systems", the FAA said in a 22 April "Continued Airworthiness Notification to the International Community".
Potentially affected Max systems include standby power control units, "P6" circuit breaker panels and main instrument panels, it added.
The FAA also said the issue has nothing to do with the flight control system that grounded the aircraft after two fatal crashes in 2018 and 2019.
The problem affects 106 examples of the 737 Max 8 and Max 9, including 71 in the fleets of four US carriers: Alaska Airlines, American Airlines, Southwest Airlines and United Airlines, the FAA said. Others are Air Canada, Belavia, Blue Air, Cayman Airways, Copa Airlines, GOL, Icelandair, Minsheng Leasing, Neos, Shandong Airlines, SilkAir, SpiceJet, Sunwing Airlines, TUI, Turkish Airlines, Valla Jets, WestJet and Xiamen Airlines.
Those jets have manufacturing line numbers between 7,399 and 8,082. Boeing manufactured them after making design changes in "early 2019", the FAA says.
Of the 106 aircraft, Boeing delivered 18 in early 2019 prior to the global grounding, according to Cirium fleets data.