Canadian pilot training specialist CAE inaugurated its first US West Coast business aviation training centre in Las Vegas earlier this week, as demand for private jet travel – and flight crew to pilot general aviation jets - surpasses pre-pandemic levels.
The centre, located just south of the city's Harry Reid International airport, has seven full-flight simulators, including those for training pilots to fly Bombardier Global 7500s, Gulfstream G650s, G500s, GIVs, GVs, and Embraer ERJ-145s and Phenom 300s.
The company aims to train 2,500 pilots annually in Las Vegas, and has already invested $80 million in the 4,645sq m (50,000sq ft) facility.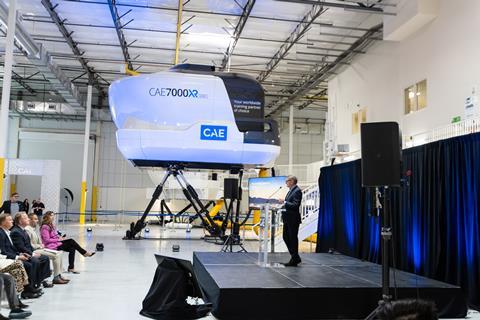 "The inauguration of CAE Las Vegas is another significant milestone in the expansion of our business aviation training network, bringing CAE closer to customers on the West Coast and beyond," CAE chief executive Mark Parent said on 4 April during an event marking the facility's opening.
The centre, which opened its doors last October, is one of 15 CAE business aviation training facilities worldwide. It employs 75 people – two-thirds of them flight instructors – but CAE expects the headcount will hit up to 100 in two years.
The decision to open the centre was spurred by a sharp increase in demand for business jet travel during the Covid-19 pandemic, the facility's general manager Ash Zare tells FlightGlobal on 5 April. "Private aviation has had a V-shaped recovery. Demand increased very quickly and has now surpassed pre-pandemic levels."
Further CAE training centres are planned for Orlando and Savannah, Georgia.
CAE's limiting factor at the moment, Zare says, is finding and training qualified instructors.
"We were able to hire quickly and have people in place, but now we need to get them through [training]," he adds. "That takes some time."
Las Vegas' local talent pool – the city is near two large US air force bases – made it an ideal location for establishing a business-jet-pilot training site.
"We hire for two highly-specialised roles: We hire pilots and we train them to become simulator instructors, and we also hire technicians and train them to become simulator technicians," Zare says. "We found a very attractive market for [those roles] here in Vegas."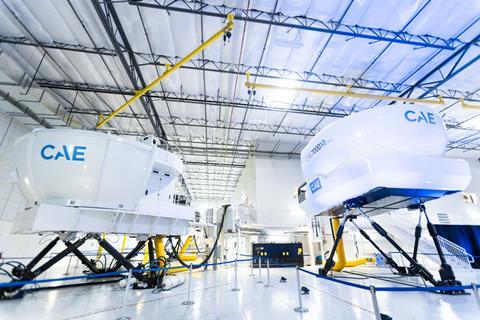 Government incentives for firms bringing technology to the traditionally entertainment- and hospitality-focused Las Vegas economy also helped seal the deal for the company.
"There is a very strong desire here to diversify the economy, and support companies creating high-skilled, well-paying jobs," Zare adds.
Last week, CAE and Greece's Aegean Airlines announced plans to establish that country's first advanced flight training centre, with seven full-flight simulators, at the carrier's technical base at Athens International airport.
Part of Aegean's new €140 million ($152 million) "aviation ecosystem" in Athens – which includes the country's first maintenance, repair and overhaul (MRO) facility – the training centre represents a significant investment in Greece's aviation industry, the companies said.