Indonesian authorities have recovered the cockpit-voice recorder of a Sriwijaya Air Boeing 737-500 that crashed on 9 January in the Java Sea.
Indonesian officials disclosed the finding in a pier-side briefing. The recorder was placed in a container and will be sent for analysis.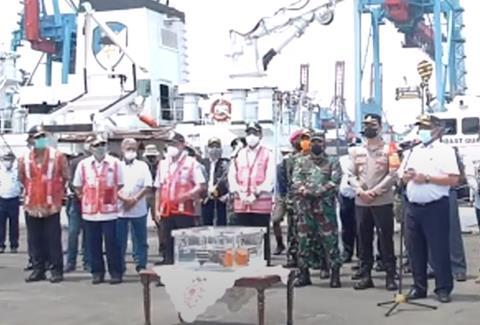 The finding of the CVR comes nearly three months after the aircraft's flight-data recorder was recovered, days after the crash.
February's preliminary report into the disaster indicates that investigators are focusing on the aircraft's autothrottle system, with early analysis revealing a thrust-lever asymmetry during the flight.
The report also disclosed that the aircraft's autothrottle was unserviceable on two occasions shortly before the ill-fated flight SJ182 crashed in the Java Sea, minutes after taking off from Jakarta bound for Pontianak on the island of Borneo. The crash killed 62 passengers and crew.
At a 3 February parliamentary commission hearing, officials from Indonesian investigation authority KNKT disclosed that the aircraft "began to slowly turn left until it finally dived down and hit the sea surface". It added that findings on the aircraft's engines were consistent with the engines' still being on before the aircraft hit the water.
In addition, early investigations found that the first officer's airspeed indicator was found to be faulty on 25 December 2020, resulting in its replacement on 4 January.
The crew made no distress call before the crash.
Indonesian officials previously said that the aircraft, registered PK-CLC, which formerly flew for Continental Airlines, was certified airworthy after nine months in storage.