A Copa Airlines Boeing 737-800 with 166 people aboard left the runway after landing in Panama City from Mexico City on 25 September.
The Panamanian flag carrier said on 25 September that its aircraft, with the registration HP-1539CMP and operating flight CM135, "was involved in an incident" at Tocumen International airport but that no injuries were reported.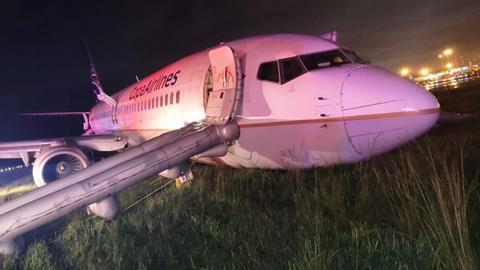 "The aircraft remains at the incident location and will be removed by specialised personnel as soon as possible," the airline says. "Due to the temporary closure of the airport, one flight was diverted to the Panama Pacifico airport while others were delayed."
According to flight tracking website FlightAware.com, the aircraft left Mexico City's Benito Juarez International airport at 17:26 local time, and landed in Panama City at 21:12 local time.
Video and images posted on social media show the aircraft resting on grass to the left of Runway 03R. All 159 passengers and six crew evacuated the aircraft via emergency exits. The runway remains closed until at least 27 September, according to a Notice to Air Crew.
The 737 is almost 13 years old and was originally operated by Delta Air Lines, according to Cirium data.