A Delta Air Lines Airbus A350 appears to have been hit by gunfire during a failed armed robbery on the apron at Santiago's Arturo Merino Benitez International airport.
Video posted to social media on 8 March appears to show four bullet impacts in the aircraft's vertical stabilizer. The airframe carries the registration N547DZ, and first entered service in March 2019.
That said, Delta maintains the aircraft was was "extensively examined following the incident and confirmed to be clear of damage".
Delta #A350 MSN365 vertical tail damaged with several bullet impacts, after an intense exchange of gunfire between criminals & security personnel. 2 dead.

It was an attempted robbery of 💵 being transported on the Latam B787 parked next to the #A350. Santiago 🇨🇱

via @diego_domi pic.twitter.com/RwGvl7Uwik

— A350Blog (@A350Blog) March 8, 2023
According to local media reports the aircraft was hit by stray gunfire around 08:00 local time as an attempted armed robbery took place near a LATAM Airlines Group Boeing 787 parked on the apron nearby. Chilean news agency Agencia Uno reports that, "Three vehicles with at least ten people entered the Santiago Airport to steal $32 million."
The cash was in the LATAM Airlines jet that had just arrived from Miami.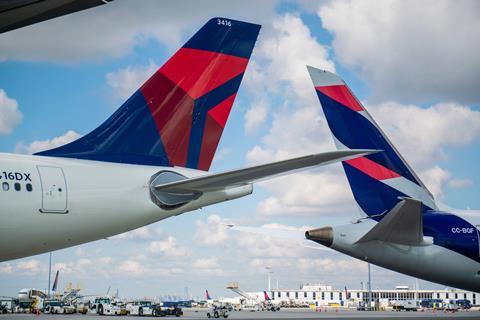 CNN Chile reports that two people – an official of Chile's Directorate General of Civil Aviation and one of the attackers - died in the incident. The news website adds that the robbers were armed with long guns and pistols. Two of the vehicles in which they escaped were later found incinerated near the airport. A third car was found later.
LATAM Airlines Group did not comment on the incident.