Delta Air Lines says the Airbus A350 that was parked near the location of a foiled heist at Santiago's Arturo Merino Benitez International airport on 8 March was not, in fact, hit by gunfire.
The Atlanta-based carrier also said on 9 March that the four-year-old airframe with the registration N547DZ operated its regularly scheduled service from the Chilean capital to Atlanta the evening before.
"Following several inspections done on the aircraft by both Delta and [the] Chilean Civil Aviation Authority in Santiago, we were able to confirm that this aircraft was not hit by gunfire, nor was damage to the aircraft sustained," the carrier says.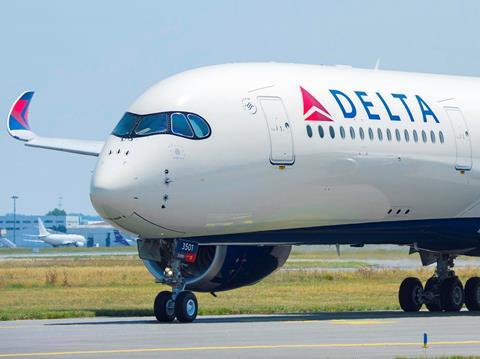 At around 08:00 local time on 8 March gunmen on the airport apron attempted an armed robbery of $32 million which had just arrived on a LATAM Airlines Boeing 787 from Miami. The Delta jet was parked near the LATAM jet. An ensuing gun battle led to the deaths of two people.
Local media reports as well as video and images posted to social media at the time had suggested the Delta aircraft had been hit by stray gunfire. Delta said on 8 March that the aircraft was '"extensively examined following the incident" and had been cleared to conduct the flight back to the USA.