A Delta Airlines Airbus A319 slid off a taxiway in Kansas City while taxiing in bad weather on Friday, leading the airport to temporarily cease operations due to deteriorating winter conditions.
Delta's flight 1114, bound for Detroit, exited the taxiway pavement, the airport's marketing manager Joe McBride, says in a tweet. "Passengers were safely offloaded and bused to Terminal B. Crews will remove the aircraft sometime today," he said in a tweet. "It is not impeding much of the airfield."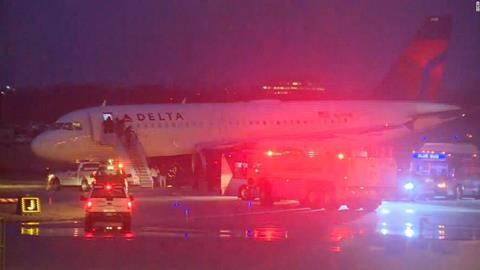 The aircraft was carrying 149 passengers and crew. There were no known injuries, McBride says.
The Federal Aviation Administration confirmed the details of the reports, adding that "FAA investigators are at the accident site, and the National Transportation Safety Board has been notified".
The airport announced at 11:55am local time on twitter that it had re-opened, and that "conditions are improving so we hope we do not again have to close the airfield for safety today."
Winter weather forecasted for this weekend has prompted several airlines to waive fees for changes to travel itineraries across the Midwest and eastern United States. Much of the eastern half of the country is under a "winter weather alert" as a heavy snowstorm threatens to disrupt travel over the long holiday weekend.
The incident in Kansas City was the second this week involving a Delta aircraft. On Tuesday, a Delta jet bound for Shanghai dumped fuel over a densely populated area of Los Angeles, dousing tens of schoolchildren and adults as it returned to the Los Angeles international airport after declaring an emergency due to an "engine issue".