Delta Air Lines and Virgin Atlantic Airways are joining British Airways in implementing pre-departure Covid-19 testing for passengers booked on flights from the United Kingdom to the United States.
The testing is in response to a new, even more highly contagious variant of the coronavirus, currently tearing across southern England.
Following an appeal by New York state governor Andrew Cuomo earlier in the day, on 21 December all three carriers confirmed that they will be introducing the testing programmes this week for their customers arriving at New York's John F Kennedy International airport, but also to other US destinations as well.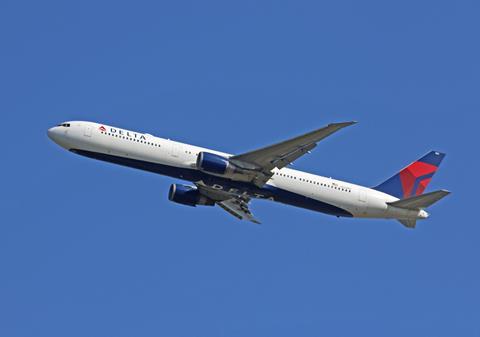 "Virgin Atlantic will be implementing new pre-departure Covid-19 testing for all customers travelling from London to the United States from Thursday 24 December," the airline says. "With the health and safety of our customers and people always our number one priority, we will require all travellers to present evidence of a negative LAMP or PCR Covid-19 test, taken up to 72 hours prior to departure, including on-site at the airport."
In addition to John F Kennedy, Virgin also operates flights from London to Atlanta, Boston, Washington's Dulles International, Las Vegas, Miami and San Francisco, according to Cirium networks data.
In addition, Virgin flies from Manchester to Orlando, John F Kennedy and Atlanta, and it was unclear whether passengers on those flights would be tested as well.
Atlanta-based Delta says it will also begin testing for US-bound passengers from the UK on 24 December.
"We will be contacting customers due to travel on our London Heathrow to Atlanta and New York-JFK services in the coming days to provide further information regarding recommended suppliers and testing requirements," the airline says.
British Airways said earlier in the day that it will begin a testing programme for passengers travelling between the UK and New York from 22 December.
United Airlines, which operates flights to London from Newark's Liberty International airport as well as Chicago O'Hare International airport, Washington DC's Dulles International and San Francisco International airport, has not said if it will offer testing for passengers, similar to what the other carriers are doing.
Newark, though in relatively close proximity to the New York City metropolitan area, is in the US state of New Jersey, and beyond the jurisdiction of New York governor Andrew Cuomo.
Meantime, the Federal Aviation Administration will not say if it is considering implementing a blanket ban on inbound flights from the United Kingdom as numerous other countries including Canada, most of Europe and some Latin American nations have already done to stop the spread of the new coronavirus mutation.
"This is a developing situation that we are monitoring closely. We will continue to work with our government partners as the situation evolves," the US regulatory body says on 21 December.
Indications show that the new strain of the coronavirus can spread up to 70% more quickly. Medical experts say, however, that it is not more lethal than the known variant, and that the vaccines, currently being rolled out globally, are likely to be equally effective against the new mutation.
Late in the day media reports emerged that the US government is considering requring every passenger arriving from the UK to present proof of a negative coronavirus test that is no older than 48 or 72 hours. Some jurisdictions in the US, like Hawaii, already require this for all inbound travellers in order to avoid the state's mandatory 14-day quarantine order.