A Boeing 757-200SF operated by DHL was destroyed after skidding off the runway at Costa Rica's Juan Santamaria airport on 7 April, with the crew apparently unharmed.
Media reports suggest that the aircraft (HP-2010DAE, MSN29610) had taken off from Juan Santamaria en route to Guatemala, but the crew then requested to return for an emergency landing.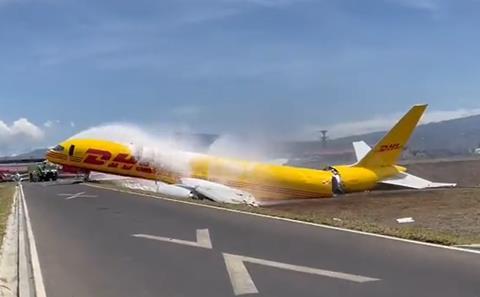 Footage on social media shows the freighter slowing upon landing, its brakes smoking. It then skids 180 degrees before sliding off the runway.
The aircraft's right wing breaks off, and then the aircraft snaps in two close to the tail. Fire crews were quickly on the scene, dousing the aircraft with foam.
The weather appeared to be sunny and fair at the time of the accident.
"We can confirm that a DHL DE GUATEMALA, S. A. B757 sustained damage upon landing at Juan Santamaria airport in Costa Rica," says DHL.
"We are pleased to report that the crew were physically unharmed in the incident. One crew member is undergoing medical checks as a precaution. We are coordinating with the airport authorities on moving the aircraft from the runway so that normal airport operations can be resumed as soon as possible."
It adds that an investigation will be conducted into the accident.
Cirium fleets data indicates that HP-2010DAE was delivered in December 1999 to Taiwanese carrier Far Eastern Air Transport as a passenger aircraft. It also served with EVA Air, before being acquired by Aerolease International in 2010, which converted it to a freighter.
The aircraft has been in service with DHL since 2010, and is managed by Infinity Transportation.