A McDonnell-Douglas MD-80 belonging to Dominican Republic carrier Red Air crashed when making an emergency landing at Miami International airport on 21 June.
"The landing gear of RedAir Flight 203, a McDonnell Douglas MD-80, collapsed when the aircraft landed at Miami International airport around 6:10 p.m. local time today," the Federal Aviation Administration says. "The flight originated from Las Americas International airport in the Dominican Republic and was headed to Miami International Airport."
"The FAA will investigate," the US regulator adds.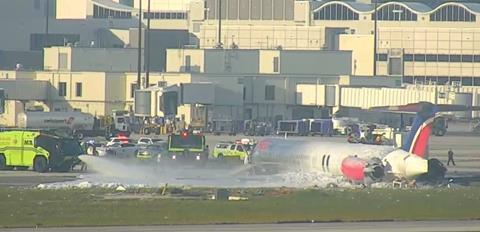 According to local news reports, all passengers evacuated the aircraft. Miami International airport says that three passengers were transported to hospital with "minor injuries".
The accident appears to have completely destroyed the aircraft, which carried the registration HI1064. According to Cirium fleets data, the airframe was 31.5 years old.
Red Air operates three aircraft of the ageing type.
The National Transportation Safety Board (NTSB) adds, "NTSB is sending a team of investigators to Miami following today's gear collapse and runway excursion of an MD-82 jetliner at Miami International Airport. Investigators will arrive on scene tomorrow."
The Dominican carrier launched flights in November 2021, and currently operates two daily connections between that country's capital Santo Domingo and Miami.
Updates on 21 June to add a statement from the National Transportation Safety Board and further information from Miami International airport.