The Federal Aviation Administration and general aviation (GA) interest groups have agreed on a roadmap to phase out the use of leaded fuel for GA aircraft in the USA by 2030.
The FAA on 23 February initiated a public-partnership it has dubbed "EAGLE": "Eliminate aviation gasoline lead emissions".
The partnership has four pillars: developing an unleaded fuels infrastructure and assessing commercial viability, supporting research and technology innovation, evaluating safe unleaded fuels, and creating policies to support the infrastructure.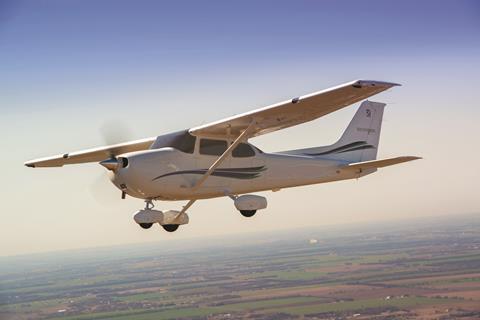 Industry lobby groups committed to the initiative include the Aircraft Owners and Pilots Association (AOPA), American Association of Airport Executives (AAAE), American Petroleum Institute (API), Experimental Aircraft Association (EAA), General Aviation Manufacturers Association (GAMA), Helicopter Association International (HAI), National Air Transportation Association (NATA) and National Business Aviation Association (NBAA).
"The future of light general aviation depends on moving away from leaded fuels," says Pete Bunce, GAMA chief executive. "To accomplish this imperative, it is important to note that our industry, as well as the industry providing our avgas, are united in partnering with the FAA to advance a sustainable future."
Other partners to the effort include the Environmental Protection Agency, fuel suppliers and distributors, airports, engine and aircraft manufacturers, research institutions, environmental experts and communities.
They aim to "ensure coordination of a safe and reliable transition to an unleaded future state for piston-engine aircraft", Bunce says.
"This is a safe and practical path to a lead-free aviation system," FAA administrator Steve Dickson adds.
AOPA CEO Mark Baker says the "transition must be done in a smart and safe way, and in a manner that works for the entire general aviation fleet".
Last year, US Transportation secretary Pete Buttigieg introduced an ambitious climate action plan that aims to achieve net-zero greenhouse gas emissions from the US aviation sector by 2050. The EAGLE programme works towards achieving those goals.
The introduction of unleaded fuel for GA aircraft has been on the industry's agenda for years, but discussion was hastened after two airports in northern California stopped selling leaded aviation fuel at short notice.
As of 1 January, Santa Clara County, which manages Reid-Hillview airport east of San Jose, and San Martin airport, south of the city, banned the sale of 100-octane leaded fuel, commonly known as 100LL, over FAA objections. Those fields became the first in the country to stop selling the fuel, which is used by many piston-powered aircraft.
The only fuel available for piston-engine aircraft at those fields now is a 94-octane formulation, which is not compatible with higher-compression piston aircraft.
The county introduced the ban after a study showed heightened lead exposure for children living near those airports.