Federal Aviation Administration chief Steve Dickson will meet today with Boeing chief executive Dennis Muilenburg to discuss Boeing's "not realistic" 737 Max return-to-service timeline, the FAA says in a letter US lawmakers.
The letter also says the FAA has concern that Boeing's statements about the Max timeline may be perceived as intended to hurry the FAA's review.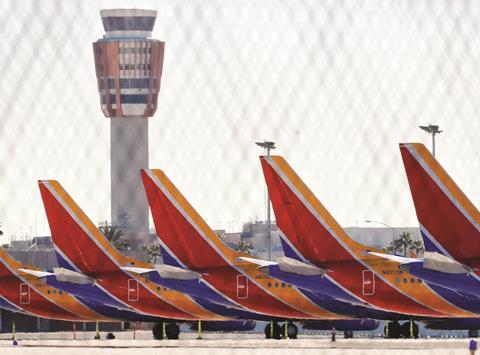 "The administrator is concerned that Boeing continues to pursue a return-to-service schedule that is not realistic due to delays that have accumulated for a variety of reasons," the FAA says in an email to lawmakers on Congressional aviation oversight committees.
"More concerning, the administrator wants to directly address the perception that some of Boeing's public statements have been designed to force FAA into taking quicker action," the letter adds.
Boeing confirms the meeting but does not immediately provide additional comment.
"The purpose of the meeting is to ensure Boeing is clear on FAA's expectations regarding the ongoing review of the 737 Max," says the FAA's letter. "The administrator believes it is in the interest safety and the overall certification efforts of FAA and the international community that we continue to make progress while taking the time to get this right."
The meeting comes one day after a House transportation committee meeting during which lawmakers grilled administrator Dickson about the FAA's Max oversight.
Boeing has repeatedly said publicly that it is working along a timeline under which the FAA would certify the Max before year end. However, it has also said the timeline remains uncertain and dependent fully upon the FAA.
The FAA has never mentioned any timeline and has made clear several certification steps remain incomplete.
On 11 December Dickson told CNBC's Squawk Box that time required for those steps would not allow certification in 2019.
Those steps include completion of a pilot training evaluation by a "Joint Operations Evaluations Board" (JOEB), which is comprised of international partners and the FAA's Flight Standardisation Board.
The Flight Standardisation Board must also issue a report addressing the JOEB's findings, and make that report open to public comment.
Additionally, the FAA and an independent review panel called a Technical Advisory Board must analyse Boeing's final design documents related to the Max flight control software changes.
The FAA must also complete the certification flight, and Dickson himself, a former airline pilot, says he will fly the Max before signing off.