The Federal Aviation Administration intends to prohibit 737 Max flights until each aircraft undergoes inspections related to risks posed by lightning strikes.
The agency on 25 February proposed an order related to the lightning concern, which differs from the flight control software issue that has left the Max grounded since last March.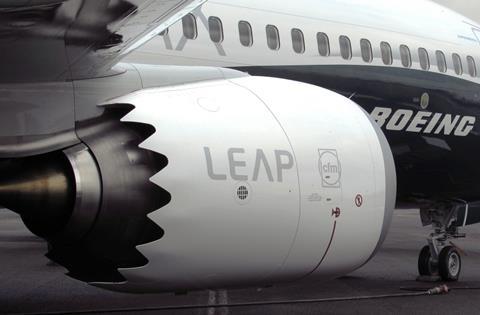 The proposed order says inadequate "electrical bonding" of panels atop the 737 Max's CFM International Leap-1B turbofans could allow a lightning strike to disable both the Max's engines. Electric bonding protects critical systems from lightning strikes.
The issue does not affect 737NGs, says the FAA.
"We are coordinating with our customers to complete the work prior to safe return to service," Boeing says.
The company in December 2019 issued a service bulletin in which it recommended inspections and a fix.
But Boeing's bulletin only applied to some 737 Max and suggested airlines complete the work within six months.
The FAA proposal, however, would require inspections on all 737 Max 8 and 737 Max 9 aircraft "before further flight".
"The proposed compliance time is based on the potential for a common-cause failure of both engines," says the FAA's proposal. "This condition, if not addressed, could result in a forced off-airport landing or excessive flight crew workload due to loss of thrust control on both engines."
The FAA says the work would impose nominal costs on airlines because Boeing will cover it under warrantees.
"Certain exterior fairing panels on the top of the engine nacelle and strut (the thumbnail fairing and mid-strut fairing panels) may not have the quality of electrical bonding necessary to ensure adequate shielding of the underlying wiring from the electromagnetic effects of lightning strikes or high-intensity radiated fields," the proposal says.
"Excessive rework" to the fairings can cause cuts in aluminium foil inside the fairings, it adds. "This metallic layer functions as part of the shielding for aircraft wiring, including wiring associated with the engine control systems."
Cuts to the foil could enable lightning strikes to cause "spurious signals" being sent through engine wires, potentially causing loss of control of one or both engines.
The FAA order would require that, prior to flight, all 737 Max undergo procedures set out in Boeing's service bulletin. Those procedures include fairing inspections, replacement of affected panels, gasket modifications and completing a "bond" check.
Addressing the "protective foil issue" requires about 5h of labour, while establishing the required "bond path" will take 20h, Boeing says.