Debris from worn bearings in Rolls-Royce Trent 1000 engine on a Scoot Boeing 787-9 caused it to shut down as the aircraft approached Perth in 2018.
As the 787 (9V-OJE, MSN 37116) approached Perth following a flight from Singapore, the crew observed that the right Trent 1000 responded slowly to commands, according to the Australian Transport Safety Bureau's (ATSB) final report into the 11 October 2018 incident.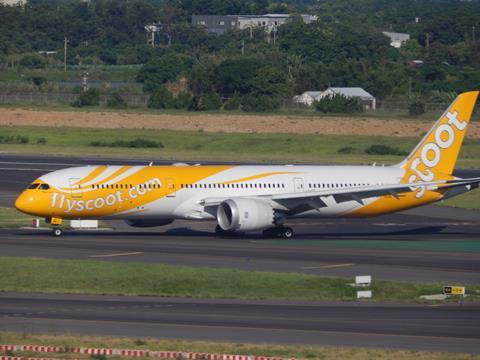 Descending through 9,000ft the aircraft experienced "severe thrust asymmetry" and then shut down.
"The crew followed appropriate procedures, and due to the proximity of the airport, elected not to attempt a restart," says ATSB. "The aircraft landed safely with emergency services in attendance. There were no injuries sustained and no aircraft damage as a result of the incident."
During the flight, the report adds, the crew had received two status messages indicating abnormalities with the right engine.
A subsequent investigation by ATSB and R-R revealed that debris from worn journal bearings in the secondary high-pressure fuel pump had blocked an inlet filter, restricting fuel flow.
R-R determined that between late 2018 and early 2019 Scoot's fleet was "particularly susceptible to low-life wear in the journal bearings of the secondary high-pressure fuel pump."
While it identified several factors that could have led to the component wear, it could find no dominant reason.
"The Rolls-Royce investigation identified various potential factors that might have contributed to low life journal wear, including the fleet's operation, maintenance, fuel quality, or pump design and construction," says ATSB.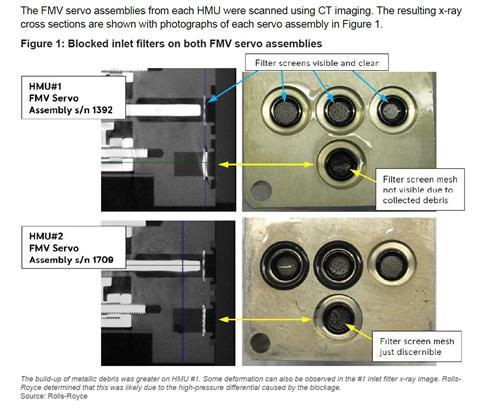 "However, it found no evidence that any factors were significantly different to the wider Trent 1000 fleet. Additionally, due to the number of variables associated with operations, maintenance, design and manufacture, it was not possible to determine the relative effect of these factors (and possibly others) when combined."
Following the incident, R-R instructed Scoot to remove an engine's fuel pump should debris be found in the ports during remove of a hydro-mechanical unit.
"In February 2020, the Fault Isolation Manual was updated to instruct all operators to remove the fuel pump and hydro-mechanical unit in the event of a maintenance message regarding the fuel metering valve not being in the commanded position."
The aircraft was carrying 356 passengers and 11 crew during the flight.
Cirium fleets data indicates that 9V-OJE was delivered in June 2015, and is owned by Scoot.