Jakarta has lifted the grounding of the Boeing 737 Max, becoming the latest major Asia-Pacific jurisdiction to clear the type for a return to service.
In a 27 December letter to Garuda Indonesia and Lion Airlines, director general of civil aviation Novie Riyanto said the grounding was lifted, pending modifications to flight controls and indication/recording systems.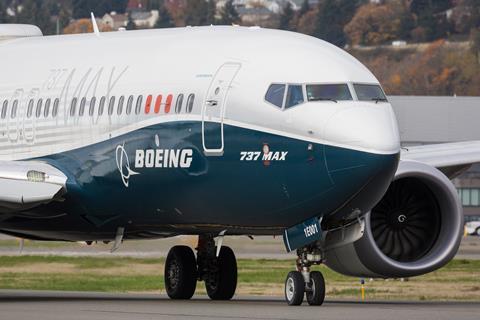 The letter was revealed in a tweet by Indonesian aviation analyst Gerry Soejatman.
"DGCA Indonesia's decision is an important milestone toward safely returning the 737 MAX to service in Indonesia," says the US Airframer. "Boeing continues to work with regulators and our customers to return the airplane to service worldwide."
FlightGlobal has also reached out to the Indonesian transport ministry for comment.
Indonesia joined global regulators in grounding the aircraft on 14 March 2019 following the crash of a 737 Max 8 operating Ethiopian flight 302 on 10 March 2019, which killed 157.
This followed the crash of a Lion Air 737 Max 8 operating flight 610 on 29 October 2018, which killed 189 passengers and crew. The flight was operating the Jakarta-Pangkal Pinang route.
Both crashes occurred shortly after take-off, with the Max's Maneuvering Characteristics Augmentation System playing a contributory role in both disasters.
The two crashes resulted in the global grounding of the type.
The Indonesian decision follows a 27 December announcement by Ethiopian Airlines that it intends to resume operations with the 737 Max 8 in February 2022.
In early December, the Civil Aviation Administration of China issued issued an airworthiness directive that clears the way for Boeing's 737 Max aircraft to return to flight operations. This followed New Delhi's decision in August to allow a resumption of service in India.
Asia-Pacific airlines have also started talking up the Max. Singapore Airlines recently conducted a media debut for its new 737 Max regional product, while India's SpiceJet has resumed services with the type.
Indonesia is a key market for the 737 Max. Cirium fleets data show that Indonesian carriers have ten 737 Max jets in storage, with 286 on order.
Lion Air has nine stored 737 Max 8s, with orders for 233 additional 737 Max Jets. Its Batik Air unit is listed as having three Max 8s on order.
Garuda Indonesia has one 737 Max 8 in storage, with 49 on order. In addition, Sriwijaya Air has a single 737 Max 9 on order.
Updated with statement from Boeing