Indonesia's National Transportation Safety Committee (NTSC) is investigating an incident involving a Wings Air turboprop which struck a taxiway ditch in Bali.
The incident, which took place on 31 May, left the ATR 72-500 (PK-WGF, MSN1062) with "substantial damage" on its rear belly, a preliminary report states.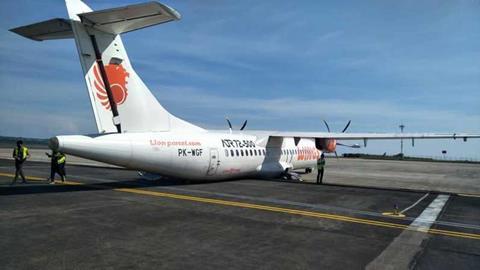 The aircraft had operated flight IW1963 from Lombok to Bali, where it landed at 14:19 local time.
The flight crew were asked to exit the Runway 09 via taxiway N4, an instruction that was acknowledged by the pilot.
Upon exiting the taxiway onto the apron taxiway, the flight crew were told of the stand where the aircraft would be parked, as well as the designated taxiway - taxiway NW7 - to use.
However, the flight crew soon realised they were on the parallel, but wrong, taxiway NW6. Upon confirmation of the parking stand, the crew were instructed to continue taxiing to their stand.
"While the second-in-command was communicating with the ground controller, the pilot-in-command turned the aircraft to the left…[and] the aircraft's main wheels [struck] the apron's ditch," the NTSC states.
The aircraft then halted taxiing and the pilot shut the aircraft engines. An observation by one of the two cabin crew indicated that both main wheels were stuck in the ditch.
The 68 passengers disembarked, with no injuries reported.
Preliminary investigations at the incident site reveal that the pilot had made a "90-degree turning manoeuvre" to get to the correct apron taxiiway. Images shares by the NTSC show the apron ditch covers badly damaged.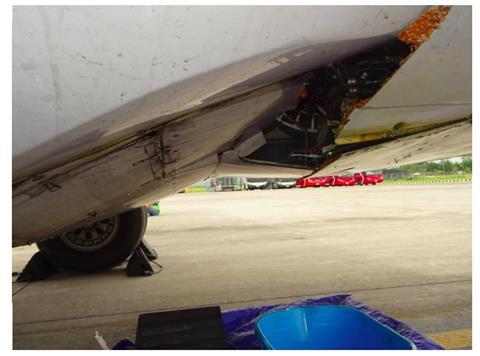 Meanwhile, the aircraft suffered scratches on the lower tail section, as well as cracks on the lower fuselage aft of the main landing gear compartment.
The NTSC, which did not issue safety recommendations in its preliminary probe, hopes to complete investigations by end-May 2023.
Cirium fleets data shows that Wings Air – the regional unit of the Lion Air Group – took delivery of the ATR 72 in December 2012. The airline is a prolific operator of the type, and has 54 examples in service.