Passengers are reportedly injured after a Cape Air Cessna 402 crashed while attempting to land at Provincetown Municipal airport in Massachusetts on 9 September.
Cape Air flight 2072 from Boston Logan International airport to Provincetown "exited the runway", the Massachusetts-based airline says in tweet. "Six passengers and one crew member were aboard. Emergency crews are on-site."
Video posted online shows the aircraft, badly damaged, came to rest among low trees.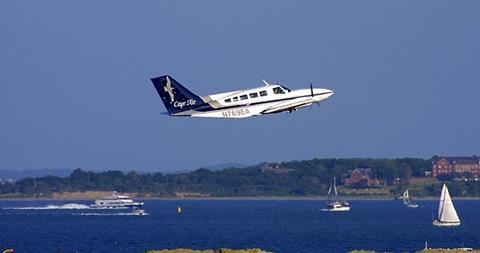 Several news outlets reported that six passengers were hospitalised, some with burns, though sources have not confirmed those reports.
The Federal Aviation Administration says the twin-engined Cessna "went off the end of the runway while attempting to land" at about 16:00 local time.
"The NTSB will be in charge of the investigation and all updates," the FAA adds.
Neither Cape Air, the Provincetown airport, Provincetown emergency authorities or the National Transportation Safety Board (NTSB) were available for comment.
Flight tracking website FlightStats.com shows that the Cessna had registration N88833 and landed at 15:30.
Citing Provincetown's town manger, the Cape Cod Times reports that "weather caused an issue with the landing", that the accident was "not a high-impact crash" and that there were no fatalities.
Nearly surrounded by water, Provincetown sits at the northernmost tip of Cape Cod in Massachusetts. The city's airport has a single 3,502ft (1,067m)-long northeast-southwest runway that stretches across dunes and scrub land, close to the sea.
Weather conditions at the Provincetown airport between 15:00 and 16:00 today included light to heavy rain, and mist, with winds of 7-10kt (11-16km/h), according to the US National Weather Service.
Cape Air operates a fleet of about 100 small aircraft, including 73 Cessna 402s and a 24 new Tecnam P2012 Travellers, Cirium shows. The Cessna with registration N88833 was built in 1980.
The airline operates short-distance flights in New England, connecting places like Boston, Hyannis, Martha's Vineyard, Nantucket and Provincetown. It also serves cities in Maine, New Hampshire, New York and Vermont, and has operations outside New England.