Japan has grounded Boeing 777s powered by Pratt & Whitney PW4000 engines, following the PW4077 failure aboard a United Airlines 777-200 on 20 February.
Japan Airlines and All Nippon Airways (ANA) confirm that the Japan Civil Aviation Bureau has issued a directive to temporarily suspend the operations of 777s equipped with PW4000s.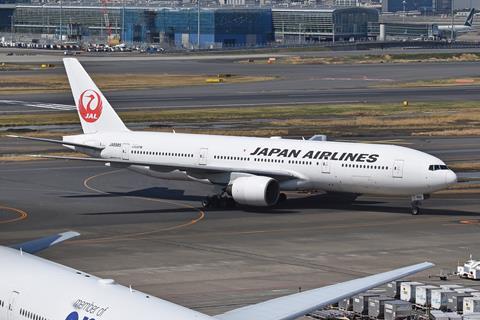 The directive affects 31 777-200/300s in the fleets of the two carriers.
"Prior to the directive, JAL had temporarily suspended operations of the said aircraft at 14:00 on 21 February as our Boeing 777 aircraft features the same engine as the UA aircraft involved in the incident," says JAL.
"Therefore, we were taking the necessary steps to verify if any additional maintenance actions need to be performed on the applicable aircraft."
On 4 December, a JAL 777-200 suffered a significant PW4000 failure, involving the loss of a large panel and fan blade damage. The incident occurred as the aircraft, JA8978 (MSN 27637), operated flight JL904 from Okinawa's Naha airport to Tokyo Haneda. The aircraft returned safely to Naha, with none of the 178 passengers or 11 crew injured.
In all, the directive applies to 13 JAL 777s – nine -200s and four -300s. JAL adds that it has already announced plans to retire this fleet, with the -200s to be retired by December 2021, and the -300s by March 2022.
JAL says that 22 777s with GE Aviation power plants – nine -200ERS and 13 -300ERS – are not affected by the directive.
ANA states that 19 of its aircraft are affected by the directive.
"The affected flights were all for our domestic operations within Japan, and as they were changed to operate on the 787 and other aircraft, no flights have been affected," says ANA.
"Future operations will depend on further notice from Japan's Civil Aviation Bureau, and we will continue to provide updates as more information becomes available."
ANA, for its part, has previously stated plans to start retiring older 777s.
Korean Air has 16 PW4000 powered 777s – 12 -200s and four -300s – and is operating three of each variant. The airline confirms that it has grounded all of its PW4000-powered 777s.
According to Cirium fleets data, Japan and Korea are the only countries in the Asia-Pacific that operate PW4000-powered 777s, with a total of 64 examples either in service or in storage. The average age of the fleet is 17.1 years.
On 20 February, a United 777-200 operating flight 328 (registration N772UA) from Denver to Honolulu suffered a major failure after taking off, shedding debris over a residential area, including the engine's nose cowl that landed feet from a house. The aircraft landed safely, and none of the 231 passengers and 10 crew were injured.
Updated with comment from Korean Air that it has grounded its PW4000-powered 777s.