The Transportation Safety Board of Canada (TSB) is investigating a landing gear issue and fire involving a Jazz Aviation turboprop in Montreal on 25 February.
Jazz say no passengers or crew were injured in the incident, which occured after landing and involved a Jazz De Havilland of Canada Dash 8-300 arriving from Ottawa, according to FlightStats.com.
The TSB is deploying an investigator following "an incident during the taxi phase of an Air Canada aircraft after landing", the agency says.
The TSB provides no additional details and did not respond immediately to requests for more information. Montreal-Trudeau airport also did not immediately respond to an inquiry.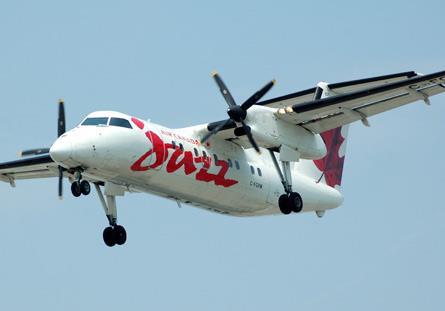 In a statement, Halifax-based Jazz confirms the incident involved flight 8970, which was carrying 48 passengers and three crew.
"After a normal landing and while taxiing at Montreal international airport, the aircraft operating Air Canada Express flight AC8970 experienced an issue with the right landing gear. As per our standard operational procedures the crew requested emergency vehicles meet the flight, as a precautionary measure – the safety of our passengers and crew is our top priority," Jazz says. "The fire department inspected and cleared the aircraft and the passengers deplaned normally at the gate. Our maintenance personnel will conduct a thorough inspection of the aircraft to determine the cause and proceed with the necessary repairs."
"Flames were seen on taxiing to the gate and were quickly extinguished. There were no injuries," Jazz adds.
The aircraft, registration C-GABO, touched down in Montreal at 05:58 local time on 25 February, says FlightStats.com.
That aircraft was manufactured in 1990 and had logged 63,181h and 80,244 cycles as of September 2019, according to Cirium fleet data.