A Boeing 737-400 Special Freighter operated by Kalitta Charters II ran off a Rochester, New York runway following a rejected take-off on 5 June, coming to stop on grass beside the runway.
None of the three people aboard the aircraft was injured in the incident, which occurred at about 09:55 local time, according to the National Transportation Safety Board, which is assessing the incident.
The jet was taking off from Rochester for a flight to Hartford Bradley International airport. Following the rejected take-off, the 737 came to a stop on the left side of Rochester's runway 22, the NTSB says.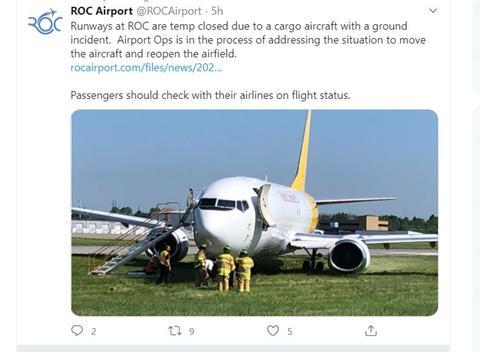 Due to the aircraft's location, the Greater Rochester International airport closed both its prime runways – 10-28 and 04-22. The airport has since reopened one runway.
Few details are known about the cause of the incident, which involved a 28-year-old 737 (registration N733CK) painted in the colours of express package delivery company DHL.
However, the Rochester Airport Firefighters union tweeted, "According to scanner audio, aircraft experienced a mechanical issue before veering off the runway".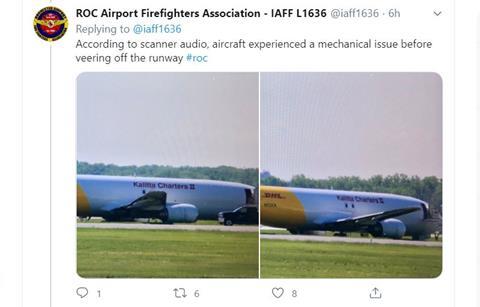 The jet had arrived at Rochester at 08:35 that morning from Cincinnati, according to Flightaware.com.
Neither Kalitta Charters II or the Federal Aviation Administration responded to requests for more information.
Boeing delivered the 737-400 new as a passenger aircraft to British Airways in 1992. In 2017, Kalitta acquired the jet and converted it to the freighter configuration.