The air traffic control tower at Las Vegas McCarran International airport has been closed for a deep cleaning after one controller has "presumptively tested positive" for the coronavirus.
The airport remains open, but with reduced flight operations until the situation can be resolved, the Federal Aviation Administration says on 19 March. A Notice to Airmen published early on Thursday says the control tower will remain closed until 27 March.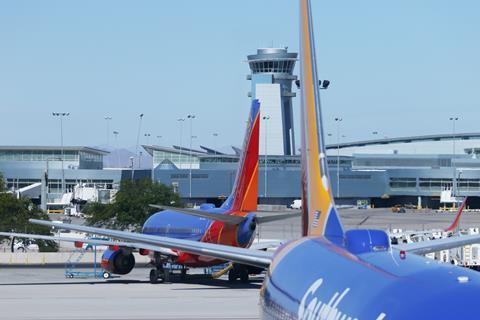 "With the tower temporarily closed, the Las Vegas Terminal Radar Approach Control has assumed control of the tower's airspace," the FAA says in a statement. The regulatory body says it is determining how many air traffic controllers will need to self-isolate after being exposed to the individual who likely has the virus.
Southwest Airlines is the biggest operator from McCarran, with three times the number of flights to and from the airport than its closest competitor, Spirit Airlines, Cirium schedules data show. The Dallas-based carrier says it has reduced operations at the airport, and so far it has had to cancel 130 flights.
FlightAware.com says inbound flights are currently being delayed at origin an average of 6h 37min.
Earlier this week, ATC closed the tower at Chicago's Midway International airport after three members of staff tested positive for coronavirus. A new Notice to Airmen, published late Wednesday, says the tower will remain closed until 18 April.
Attempts to reach the National Air Traffic Controllers Association, the labor union for ATC employees, were unsuccessful.
Las Vegas was placed under a "shelter-in-place" order on Wednsday, closing all non-essential business, including casinos and restaurants - the main drivers of the city's economy - to prevent further coronavirus spread.
Updates on 19 March to include number of Southwest Airlines flight cancellations.