A McDonnell Douglas MD-87 crashed following a runway overrun while attempting to take-off from an executive airport near Houston on 19 October.
All 21 people aboard the jet, which was outfitted in a corporate aircraft configuration, safely evacuated, says the US Federal Aviation Administration, which is investigating the incident.
Video and pictures posted on social media show the jet engulfed in flames and completely destroyed.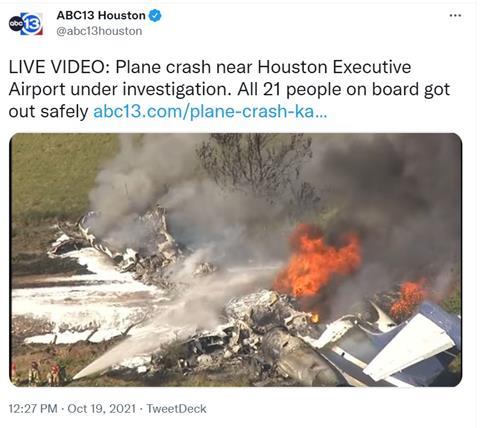 "A McDonnell Douglas MD-87 rolled through a fence and caught fire in a field while attempting to depart from Houston Executive airport in Houston, Texas," says the FAA. "Preliminary information indicates that 21 people were aboard and that all of them evacuated safely."
The incident occurred shortly after 10:00 local time on 19 October.
The US National Transportation Safety Board, which is also investigating, says it is "gathering information about the crash".
Houston Executive airport is about 30 miles (48km) west of Houston. Images posted on social media suggest the jet was taking off to the north on Runway 36. It apparently left the end of the runway and crossed a nearby road before coming to rest.
The FAA confirms the aircraft had registration N987AK. That jet, manufactured in 1988, was owned and operated by a company called "987 Investments", according to Cirium data.
That company is registered by "James Alan Kent" at an address shared by a company called "Flair Builders", of which Kent is chief executive, according to publicly available documents. A telephone call to Flair went unanswered.
The aircraft had 19 business-class seats and had logged, as of January 2018, 49,400h of flight and 31,900 cycles, Cirium data shows. McDonnell Douglas delivered the jet, which was powered by Pratt & Whitney JT8Ds, to Finnair in 1988.