Nepal's civil aviation regulators are looking to tighten guidelines for aircraft operations in adverse weather conditions, following the fatal crash of a Tara Air turboprop on 29 May.
According to a notice from the Civil Aviation Authority of Nepal (CAAN) dated 31 May, airlines and airports will have to "suspend operations" in case of adverse weather conditions.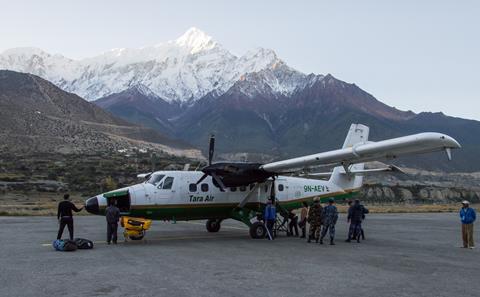 When submitting flight plans, airlines will have to "collate [and submit] the weather information of the destination and flight path". Only the air traffic services reporting office can approve the flight plan, the authority adds.
The regulator is also mulling making it mandatory for two pilots to fly a single-engine aircraft, and has set up a five-member technical advisory team. A draft proposal is expected within seven days, it states.
On 29 May, a Viking Air DHC-6-300 (9N-AET/MSN619) Twin Otter operated by Tara Air crashed at a height of 14,500ft. It was operating the Pokhara-Jomsom route, and was carrying 19 passengers and three crew members, none of whom survived.
Preliminary investigations by the CAAN point to adverse weather as a likely contributing factor to the crash. The turboprop's recorders have been retrieved from the crash site and sent to Kathmandu for analysis.
The crash is the latest in a string of safety incidents to hit Tara Air. In 2016, another Tara Air Twin Otter crashed while operating the Pokhara-Jansom route, killing 20 passengers and three crew.
In 2010, Tara Air suffered another fatal Twin Otter crash, resulting in the loss of 19 passengers and three crew. This accident saw the aircraft crash into Mt. Palunge while operating the Lamidanda-Kathmandu route.