New Zealand safety officials are investigating a "loss of control" incident during landing involving a Boeing 777-300ER at Auckland International Airport.
The incident occurred on 27 January at 18:50 following the aircraft's (ZK-OKN, MSN38406) landing amid gusts of wind and torrential rain," says New Zealand's Transport Accident Investigation Commission (TAIC).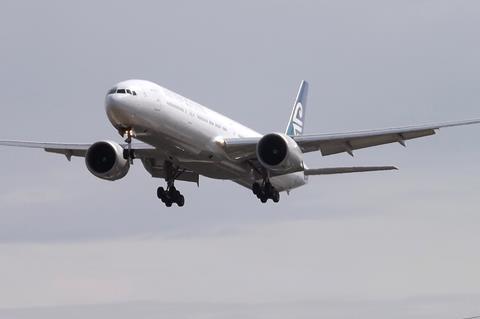 "Shortly after touchdown, the aircraft briefly lost directional control, veered away from the runway centreline, regained control, completed the landing, and taxied the aircraft to the airport terminal," says TAIC.
"There was damage reported to six runway edge lights and to the aircraft's undercarriage assembly, including deflation of one tyre."
There were no injuries among passengers and crew. The aircraft was operating flight NZ124 from Melbourne.
Auckland suffered the onset of extremely heavy rain from 27 February, causing flight cancellations and delays, as well as flooding in local communities.
Cirium fleets data indicates that ZK-OKN was delivered in February 2011. It spent much of 2020 and all of 2021 parked amid the coronavirus pandemic, before returning to operation in May 2022.