The US National Transportation Safety Board (NTSB) has blamed the Federal Aviation Administration for failing to implement safety recommendations that could have prevented a fatal helicopter crash in Hawaii in 2019.
The NTSB said on 10 May that its numerous recommendations dated back to 2007, and were often reiterated.
"When the NTSB issues safety recommendations, they are data-driven, supported by factual evidence developed from investigations, and are carefully crafted to prevent accidents," says NTSB chair Jennifer Homendy. "The NTSB previously made 11 recommendations to the FAA to prevent accidents like this one, but our recommendations only work when they are implemented. It's time for the FAA to act."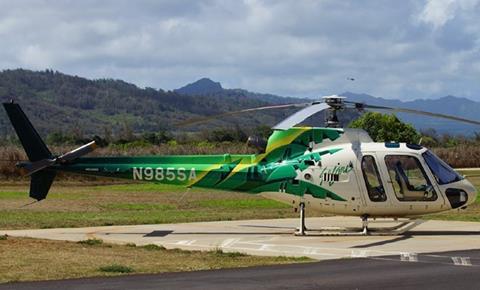 On 26 December 2019, a seven-seat Airbus AS350 B2 helicopter operated by commercial tour operator Safari Aviation crashed on the island of Kauai, killing all on board and destroying the helicopter.
The NTSB determined that the accident was a result of the pilot flying into deteriorating weather conditions.
The "highly-experienced pilot… flew into a mountainous region shrouded in low clouds and fog and wasn't able to exit the area of limited visibility before he either lost control of the helicopter or flew into rising terrain he wasn't able to see".
An "organisation-wide safety management system" could have prevented that accident, NTSB says, adding that that and other repeated recommendations were not followed.
"The NTSB initially recommended the FAA require air taxi and air tour operators to have safety management systems in 2016. Since the FAA refused to take such action, the board reiterated the recommendation for the sixth time," the safety regulator says. "As a result of previous fatal aviation accidents involving limited weather information and inflight weather assessments, the NTSB in 2007 recommended the FAA develop and require specialized inflight weather training for air tour operators in Hawaii."
"Investigators said the FAA's failure to implement that recommendation deprived the pilot of training that could have given him the tools to better recognize and avoid hazardous weather conditions; the NTSB reiterated that recommendation," NTSB adds.
The FAA, meantime, tells FlightGlobal on 10 May that it takes the recommendations seriously. It has recently installed five weather cameras on three Hawaiian islands to assist pilots in determining the conditions, with 21 more, across six islands, to be installed by the end of 2023.
"The cameras provide pilots with near-real time images of weather conditions at their destinations and along intended flight routes," the US aviation regulator says. "The FAA has taken input from local pilots, including where they encounter sudden weather changes and where accidents have occurred, to determine camera sites."
In addition, air tour operators can apply to participate in a voluntary Safety Management System programme.
"We have rule-making underway to make these systems a requirement," FAA adds "We encourage air tour operators to equip their aircraft with ADS-B and flight data recorders, and are exploring making recorders mandatory."
Updates on 11 May to clarify that there were seven victims, not six, and that the NTSB's various recommendations were made beginning in 2007, not 2016.