The US National Transportation Safety Board (NTSB) will participate in the investigation of the crash of a China Eastern Airlines Boeing 737-800.
"The NTSB has appointed a senior air safety investigator as a US accredited representative to the investigation of the March 21, 2022, crash of a China Eastern Airlines Boeing 737-800 near Wuzhou, China," the US body said on 21 March. "Representatives from Boeing, CFM International and the Federal Aviation Administration will serve as technical advisers."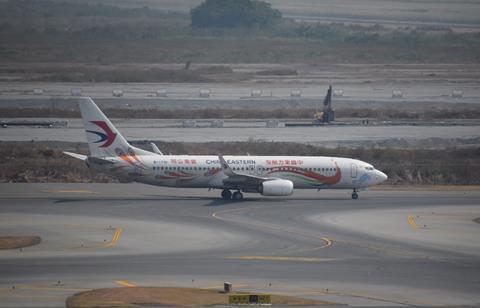 The aircraft (B-1791/MSN41474) was operating service MU5735 from Kunming to Guangzhou with 132 aboard, the CAAC says. China Eastern has also sent a team to the crash site, and is cooperating with ongoing investigations.
Boeing adds: "Our thoughts are with the passengers and crew of China Eastern Airlines Flight MU5735. We are working with our airline customer and are ready to support them.
"Boeing is in contact with the US National Transportation Safety Board and our technical experts are prepared to assist with the investigation led by the Civil Aviation Administration of China."
Flight tracking websites indicate that the aircraft had completed about three quarters of its flight when it plunged abruptly from 30,000ft to ground level.
Cirium fleets data indicates that B-1791 was delivered to China Eastern in June 2015, and served with China Eastern Airlines Yunnan.