An off-duty Alaska Airlines pilot was the person who attempted to shut off an Embraer 175's engines during a 22 October flight, and authorities have seemingly charged that person with 83 counts of attempted murder.
Joseph David Emerson, 44, was booked into the Multnomah Country Detention Center early on 23 October on 83 charges of attempted murder, according to records with the Multnomah County Sheriff's Office.
Emerson was arrested by the Port of Portland, which operates Portland International airport, and also charged with reckless endangerment.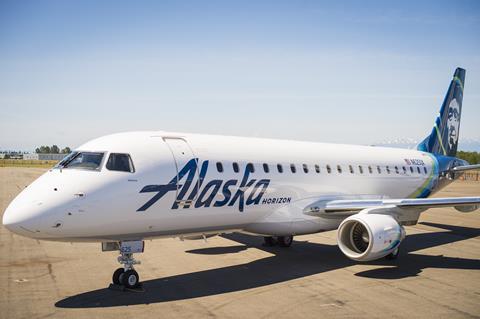 Neither Alaska Air Group, which owns Alaska Airlines and Horizon Air, nor the Sheriff's Office immediately confirms Emerson is the person who disrupted Horizon Air flight 2059 from Everett, Washington to San Francisco on 22 October.
After taking off from Everett at 17:23 local time, one of the E175's pilots told air traffic control, "We've got the guy that tried to shut the engines down out of the cockpit and it doesn't sound like he's causing any issue in the back right now".
The pilots diverted and landed safety in Portland.
Alaska Air initially said only that "an authorised occupant of the flight-deck jump seat" caused the incident.
Now, the company confirms the person was one an employee.
"An off-duty Alaska Airlines pilot… unsuccessfully attempted to disrupt the operation of the engines. The Horizon captain and first officer quickly responded, engine power was not lost and the crew secured the aircraft without incident".
"The jump seat occupant is currently in custody and the event is being investigated by law enforcement authorities, which includes the FBI and the Port of Portland Police Department," Alaska adds. "We are grateful for the professional handling of the situation by the Horizon flight crew and appreciate our guests' calm and patience."
No other details are known about Emerson.
Asked to comment, the Air Line Pilots Association, International (ALPA), which represents Alaska Airlines' pilots, says it is "fully cooperating with authorities as they investigate this incident".
"It is important to remember that the airline pilot profession in North America is one of the most-highly vetted and scrutinised careers," ALPA adds. "US pilots are continuously evaluated throughout their careers through training, medical exams, crew resource management and programmes such as the Line Operations Safety Audit, as well as by the airline and during random flight checks by the Federal Aviation Administration."
Neither the FAA nor the Federal Bureau of Investigation have responded to requests for comment.