An IAI Westwind 1124A private jet operating a medical evacuation flight from Manila Ninoy Aquino International Airport to Tokyo Haneda crashed during takeoff, killing all eight aboard.
The Manila International Airport Authority (MIAA) confirms that the crash happened at 19:57 local time on 29 March as the aircraft (RP-C5880) attempted to take off from runway 24.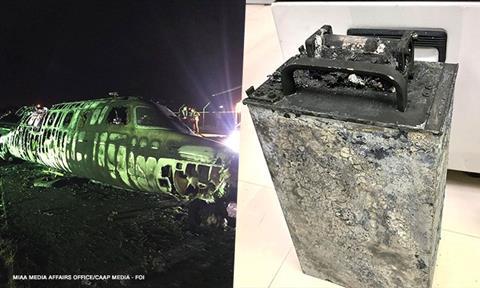 "Just before taking off, the aircraft, a Westwind 1124A business jet, suddenly burst into flames and stopped just meters before the end of the runway," says MIAA.
"Seeing the incident, the Manila Control Tower immediately dispatched the MIAA Fire and Rescue team to the site and were able to put out the fire of the burning plane. However, all passengers and crew perished even before the fire was put out."
The crash forced the runway to close for the night while the debris was cleared. It re-opened at 0420. The cockpit voice recorder of the crashed jet has been recovered.
According to the MIAA, the aircraft was carrying three flight crew, three medical personnel, and two patients, one of whom was American, the other Canadian.
Cirium fleets data show that RP-C5880 was originally delivered in November 1981 and served with several corporate customers over its 40-year service life. In 2009 it was obtained by Philippine charter carrier Lionair, which is not related to Indonesian low cost carrier Lion Air. While Lionair remained the aircraft's owner, its operator is listed as Executive Jets Asia.
During the investigation, Philippine authorities have grounded Lionair's fleet.
"Tthe Flight Safety Investigation Committee (FSIC) will look into if there are aviation safety procedures violated by the aircraft operator and/or the crew," adds CAAP.