Indonesian authorities are searching for a Sriwijaya Air Boeing 737-500 that disappeared on 9 January while operating the Jakarta-Pontianak route.
The aircraft, PK-CLC, was operating flight SJ182 when contact was lost at 14:40 local time, according to an official from Indonesia's Basarnas search and rescue agency.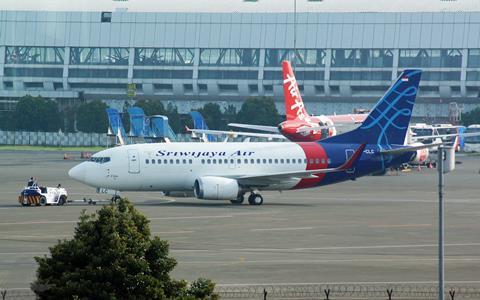 Unverified data from flight tracking sites suggest that contact was lost roughly 4min after take-off, with the aircraft reaching a maximum altitude of 10,900ft before rapidly descending to just 250ft, when transponder contact was lost.
The airline confirms that the 737 was carrying 56 passengers and six crew. Among the passengers were six off-duty crew members. Basarnas says a search is underway in the sea north of Indonesia's main island of Java.
FlightGlobal understands that PK-CLC was formerly managed by GECAS, which sold it to Sriwijaya in 2018. It served with Continental Airlines from 1994 to 2011, and entered service with Sriwijaya in 2012.
Including PK-CLC, Sriwijaya has 11 in-service 737s, comprising four -500s, six -800s, and one -900ER. It has 17 aircraft in storage.
Corrects fifth paragraph with details of PK-CLC's management. A previous version stated that GECAS still managed the aircraft.