South Korea has temporarily banned all operations of Pratt & Whitney PW4000-powered Boeing 777 aircraft within its airspace.
A NOTAM issued on 24 February indicates the ban is in place until 24 May.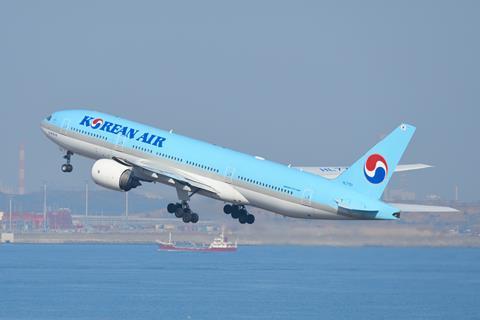 Cirium fleets data shows that South Korean airlines are among the major operators of PW4000-powered 777s, after the USA's United Airlines and Japan's ANA and Japan Airlines. Korean Air operates 12 PW4000-powered 777-200s and four 777-300s, while its low-cost affiliate Jin Air operates four 777-200s. Asiana Airlines has nine such 777-200s.
South Korea's Ministry of Land, Infrastructure and Transport had on 22 February ordered local airlines to check the engines of such aircraft, according to an English-language report by local news agency Yonhap, dated 24 February.
New Zealand's Civil Aviation Authority also issued a similar directive – to ban PW4000-operated 777s within its airspace – effective 24 February-23 March or until the USA's Federal Aviation Administration gives the all-clear.
This follows similar orders by the UK on 22 February and Japan on 21 February, each imposing a three-month ban.