Nepal's civil aviation regulators have confirmed that the Tara Air turboprop that lost contact inflight crashed at a height of 14,500ft, with little hope of finding survivors.
The incident, which occured on 29 May, involved a Viking Air DHC-6-300 (9N-AET/MSN619) Twin Otter. It was operating the Pokhara-Jomsom route, when it lost contact with Jomson Airport at 10:07am local time.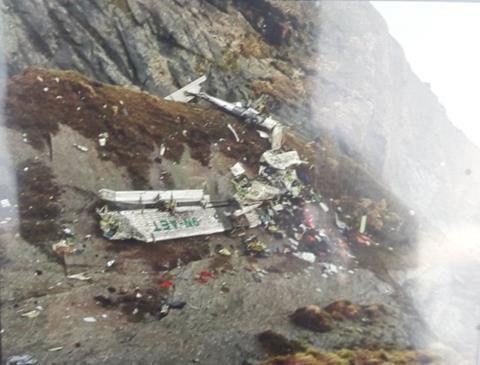 A brief statement from the Civil Aviation Authority of Nepal says the aircraft wreckage was found at 8:10am local time on 30 May.
"[We] confirm that the aircraft crashed at an altitude of 14,500ft," the authority adds. Jomsom is located in the mountainous Mustang district of Nepal.
According to local news reports, at least 21 bodies have been recovered from the crash site. The aircraft was carrying 19 passengers and three crew members, including four Indian nationals and two Germans.
The crash is the latest in a string of safety incidents to hit Tara Air. In 2016, another Tara Air Twin Otter crashed while operating the Pokhara-Jansom route, killing 20 passengers and three crew.
In 2010, Tara Air suffered another fatal Twin Otter crash, resulting in the loss of 19 passengers and three crew. This accident saw the aircraft crash into Mt. Palunge while operating the Lamidanda-Kathmandu route.