A Tibet Airlines Airbus A319 has suffered major damage in a runway excursion at China's Chongqing Jiangbei International airport.
Social media shows the aircraft (B-6425/MSN5157) lying on its belly, flames and smoke belching from its left-side wing.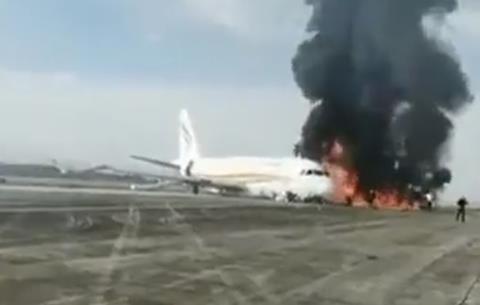 The aircraft was due to operate flight TV9833 to Nyingchi when the accident occurred.
Tibet Airlines says that the aircraft was carrying 113 passengers and nine crew; 36 passengers were taken to hospital with injuries sustained during evacuation.
The airline adds that that the plane veered off the runway after an aborted take-off, but offers no other details. It also states the aircraft was "damaged".
Social media footage shows passengers escaping the burning jet. Curiously, the rear right-hand door is opened with the slide deployed, but the forward right-hand door and over-wing emergency exit appear to be closed.
It appears, however, as if some passengers escaped from the forward left-side door, close to the burning wing. Some are carrying cabin baggage.
Subsequent videos show emergency services vehicles dousing the aircraft in foam.
【重慶江北國際機場一航班沖出跑道起火】5月12日早8時許,重慶江北機場疑似一飛機冒黑煙。西藏航空重慶分公司回應:"有這個事,還在調查中,具體情況還要等公司通知。" ​​​​#Chongqing #Aircraft #Tibet #Tibetairlines pic.twitter.com/pz0hVtDkUq

— 鳳凰網 (@ifenglobal) May 12, 2022
Cirium fleets data indicates that B-6425 was delivered to Tibet Airlines in 2012, and is managed by the carrier.
The aircraft, which was built at Airbus's Tianjin final assembly line, is powered by two CFM International CFM56 engines, and has 128 passenger seats, with 120 in economy class and eight in business.
Tibet Airlines is a major operator of the A319, with 28 examples in its fleet. It also operates six A320s and four A330s.
Story updated with details of injuries.