A United Airlines Boeing 777-200 suffered an engine failure just minutes after taking off, strewing debris across a Denver neighbourhood.
The aircraft left Denver International airport as UA 328 at 13:04 local time on 20 February, destined for Honolulu with 241 people on board. Flight tracking website FlightAware shows that it returned to Denver and made an emergency landing about 25min later.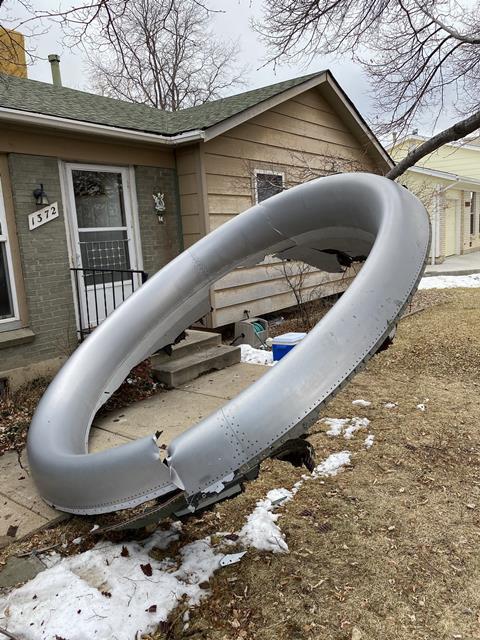 Witnesses on the ground report on social media that they heard a loud explosion around 13:09 local time, and saw smoke coming out of the right engine of the aircraft, which had climbed to about 13,500ft.
Parts of the engine then fell to the ground. Photos posted on Twitter showed large parts of the engine nacelle in the front yard of a house in Broomfield, a Denver suburb, as well as various large metal pieces strewn across a field.
A video filmed during the flight and later posted online showed the engine on fire and the casing around it shredded.
"Flight 328 from Denver to Honolulu experienced an engine failure shortly after departure, returned safely to Denver and was met by emergency crews as a precaution," United tells FlightGlobal. The Chicago-based airline says that the aircraft had 231 passengers and 10 crew on board. No one was injured.
The airframe, with the tail number N772UA (MSN 26930), is 26 years old, according to Cirium fleets data. It is outfitted with Pratt & Whitney PW4000 turbofan engines.
In December, a Japan Air Lines 777-200 with the same type of Pratt & Whitney engines suffered a similar significant failure, which involved the loss of a panel and fan blade damage. That aircraft was also able to land safely.