The US Departments of Transportation, Homeland Security, and Health and Human Services have jointly published a report outlining recommendations for public safety as the world continues to grapple with the coronavirus pandemic.
The document, published on 2 July, is titled "Runway to Recovery: The United States Framework for Airlines and Airports to Mitigate the Public Health Risks of Coronavirus". It lays out a roadmap for passenger carriers and airports as they try to minimise further transmission of the virus amongst and between passengers, crews and other workers.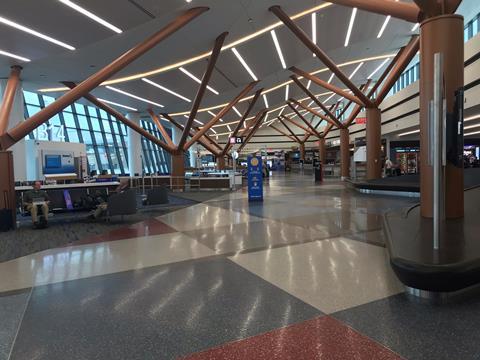 The roadmap outlines numerous measures the air carriers and airport operators should take "across all operations and all phases of travel to, from, and within the USA, along with a roadmap explaining how those measures should be adapted to the unique air travel environment", the report says.
"This document provides clear guidance to airlines and airports to protect the traveling public, and we encourage people to pay attention to it," says Transportation Secretary Elaine Chao.
Recommendations include passenger education efforts, social distancing, mandatory face coverings, health assessments, and minimising in-person interaction as well as utilisation of technologies that will support this goal.
The DOT has come under increasing pressure to mandate uniform regulations for all airlines as the coronavirus crisis drags on into its fourth month. With the beginning of the summer holiday travel season and more and more regions in the USA lifting shelter-in-place orders, both airlines and airports are expecting passenger numbers to rise.
So far, most airlines have implemented their own coronavirus-related protocols, creating confusion and frustration among travellers. Last month several carriers said they would enforce mask-wearing on their flights, and impose no-fly sanctions on those passengers who refuse to comply.
Some lawmakers say the recommendations in the report, while well-meaning, are too little too late.
Democratic Senators Richard Blumenthal and Edward Markey, members of the Senate's Commerce, Science, and Transportation Committee, laud the government for presenting the report at all, but criticise it for its "unenforceable and woefully inadequate recommendations".
"We need federally enforceable mandates to keep the travelling public safe," the senators write on 2 July. "Moreover, this document merely scratches the surface of the many complex questions that we need to address to ensure safe and healthy air travel."
In the past several weeks, airlines have brought aircraft out of storage and increased their capacity to both domestic and international destinations. United Airlines, for example, said on 1 July that it was adding 25,000 flights to its August schedule.
That said, several southern states like Arizona, Texas and Florida are currently experiencing a spike in new cases, which may cause some vacationers to rethink their plans. Some states have imposed quarantine requirements for those passengers returning from high-case regions.
On 2 July the Transportation Security Administration (TSA) says it screened 626,516 passengers the day before. That's the third-highest daily throughput since the start of the coronavirus pandemic, but still far below the 2.5 million passengers it screened on the same day a year ago.
Update: Changes made on 2 July to include reaction from US Senators Blumenthal and Markey.