Mexican ultra-low-cost carrier Volaris expects the Federal Aviation Administration to restore the country's "Category 1" safety status later this year.
"We are confident that it will happen in the next six months," Enrique Beltranena, chief executive of the Mexico City-based airline, said on 22 February during the company's fourth-quarter earnings call.
Volaris has been eagerly anticipating the safety status upgrade, with Beltranena echoing almost word-for-word similar sentiments he expressed during last year's fourth-quarter earnings report call.
The upgrade will represent a "growth opportunity" for the carrier, letting it shift capacity to take advantage of northbound demand.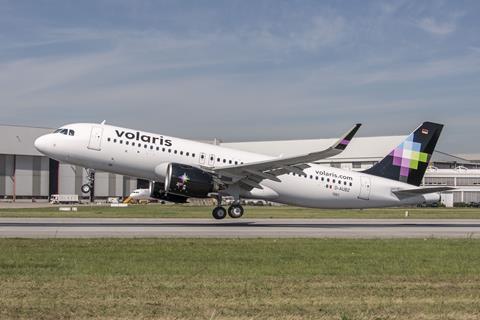 Since the downgrade in May 2021, Mexico has made "substantial progress" on rectifying many of the 39 points which the FAA had criticised, he adds.
"We have seen the process going on really well. Of the 39 points that were raised by the FAA there are only 10 left [to be resolved], of which about half are related to law, and the other half are systems that need to be put in place," he says.
"We had the FAA here a week ago and they are planning to come back by the end of March," he says.
But even when Mexico receives the all-clear, it will take some time for Volaris and its Mexican airline peers – Aeromexico and Viva Aerobus – to capitalise.
"Once [the FAA] come back and decide to raise the category, there's a couple of months that requires the process to go through the US government authorities and then we will probably have a resolution," Beltranena says. "Once that happens, we still have to sell the routes, so ramping up capacity is something only that is going to happen by the last quarter. That's the fastest process we can think about."
The FAA downgraded Mexico's safety status to Category 2, from Category 1, in May 2021. The US aviation regulator said at the time that the country and its civil aviation authority AFAC no longer met ICAO safety standards. Shifting Mexico to Category 2 meant the FAA was unsatisfied with a country's laws or regulations, or that the country's civil aviation authority had a poor record with technical expertise, trained personnel, record keeping, inspection procedures or resolution of safety concerns.
While the FAA permitted existing air service between the countries to continue, the Category 2 designation restricts Mexican carriers from introducing new US routes and hinders US airlines' ability to market and sell tickets on Mexican carriers via code-share partnerships.
The FAA said earlier this month it is continuing to "provide assistance to Mexico's civil aviation authority" in recovering Category 1 status.