Urban air mobility company Volocopter has received a Design Organisation Approval from the European Aviation Safety Agency (EASA), as it makes progress towards certification and commercial deployment.
EASA approval means that Volocopter is able to speed up its product development process, with fewer steps needed to get commercial certification. EASA will be exercising its surveillance on the company as a whole, with its involvement reduced to fewer steps.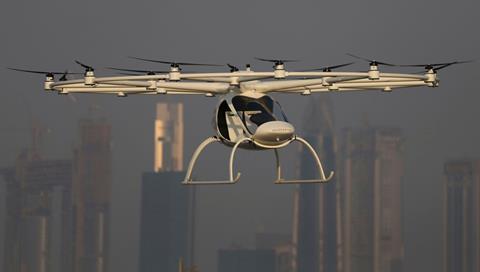 Volocopter is also the first eVTOL firm to receive EASA's Design Organisation Approval in the area of VTOL.
Volocopter states that its initial approval "will be continuously expanded with further privileges".
"These privileges can eventually include elements such as issuing approvals of changes or even issuing a permit to fly for its test aircraft allowing to conduct engineering and certification flight test of Volocopter's commercial air taxi," the company states.
Other EASA Design Organisation Approval holders include Airbus, BAE Systems, Leonardo, as well as Lufthansa Technik