An ATR 72-500 operated by Nepali carrier Yeti Airlines crashed near Pokhara town on the morning of 15 January.
The turboprop (9N-ANC, MSN754) was operating flight YT691 from capital Kathmandu to Pokhara. The aircraft, which was carrying 68 passengers and four crew members, took off around 10:30 local time, and was on approach to Pokhara airport when it crashed.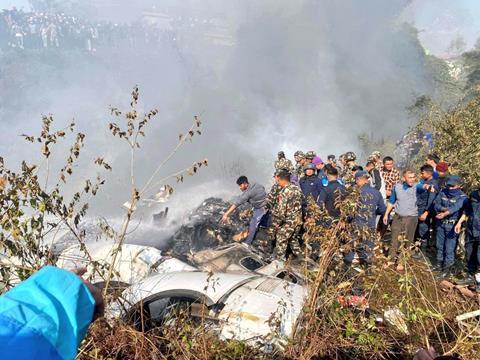 Nepali prime minister Pushpa Kamal Dahal confirmed the incident on Twitter, where he called on relevant agencies to commence search and rescue efforts.
Yeti Airlines and the Civil Aviation Authority of Nepal (CAAN) subsequently confirmed the crash, noting that search and rescue efforts have begun. Yeti Airlines, through a statement issued on social media, says the aircraft last made contact with Pokhara air traffic control at about 10:50 local time.
Media reports also indicate that at least 40 people were killed, though an official statement from the CAAN states there were 29 confirmed fatalities.
Footage on social media, purportedly of the crashed aircraft on final approach, shows its tail dip slightly before it banks sharply left. The camera turns away and an impact is audible in the background immediately before the filming cuts out.
दुर्घटना हुनु ठियाक्कै अगाडी #YetiAirlines
साभारः संजाल pic.twitter.com/YlSevHRKAO

— चित्र-शब्द (@picwrds) January 15, 2023
Other footage on social media shows crowds of people at a crash site, black smoke billowing overhead.
Cirium fleets data indicates that 9N-ANC was delivered new to India's now defunct Kingfisher Airlines in 2007. It served with Thailand's Nok Air from 2013 to 2019, when it entered service with Yeti Airlines.
Cirium indicates that the aircraft is managed by lessor Investec Bank, and owned by KF Turbo Leasing.
The incident is the latest commuter turboprop crash in Nepal's checkered air safety record. it comes over half a year since a Tara Air Viking Air DHC-6-300 crashed while operating the Jomson-Pokhara route.
In 2019, another Yeti Airlines ATR 72-500 (9N-AMM) suffered a runway excursion amid rainy weather at Kathmandu Tribhuvan International Airport.
With additional reporting by Greg Waldron
Story updated with confirmation from Yeti Airlines and Civil Aviation Authority of Nepal.