AirAsia Aviation Group will take at least 100 Vertical Aerospace VX4 electric vertical take-off and landing (eVTOL) aircraft from lessor Avolon, becoming the first Southeast Asian operator of the type.
The aircraft – the first of which could enter service as early as 2025 – will operate under AirAsia's ride-hailing platform.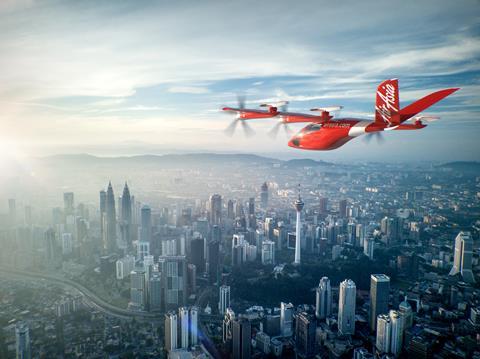 As part of the agreement, signed at the Singapore air show, Avolon and AirAsia will work to get the VX4 certificated in key markets, including Malaysia, and research potential opportunities and infrastructure requirements.
Avolon's investment and innovation unit Avolon-e will also work with AirAsia to commercialise eVTOL aircraft operations and "develop an industry-leading urban air mobility platform in Southeast Asia".
Avolon first placed an order for 500 VX4s from Vertical Aerospace in June 2021, and has since placed a significant number of the eVTOL aircraft with airlines including Gol in Brazil and Japan Airlines.
Tony Fernandes, chief executive of AirAsia Aviation parent Capital A, says he is "optimistic" about getting the regulatory green-light for operations, including from the Malaysian civil aviation authorities.
"We will be doing all the groundwork now – 2025 is not many years away, but hopefully Avolon can get the aircraft to us faster," says Fernandes. Certification of the VX4 in the UK is only expected in 2024.
He adds that the business model for the eVTOL ride-sharing will be pitched between AirAsia's airline operations and road ride-hailing services, touting it as a "natural progression" in the group's wide-ranging expansion beyond its core airlines.
Fernandes, who insists that the eVTOL service "will be accessible for the world", expects the domestic tourism industry to generate some demand, listing potential Malaysian routes such as from Kuala Lumpur to the Genting Highlands resort.