Japan's All Nippon Airways has tapped GE Aviation's digital services for fuel management and has extended a Boeing digital toolbox contract for another five years.
The carrier will tap on GE's Fuel Insight software to monitor fuel efficiency and consumption, with the purpose of identifying and implementing sustainable fuel efficiency initiatives.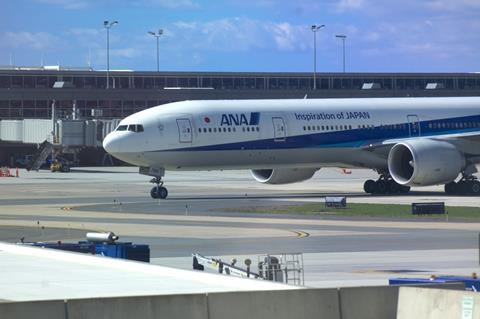 "The Fuel Insight project is the latest in ANA and GE's long-standing partnership and will focus on three fuel savings initiatives: engine out / taxi in, idle reverse thrust, and normal climb as a first step," states GE.
ANA vice president of flight operations standards Takashi Kondo adds: "Our mission is not only to save fuel, but also to incorporate [environmental sustainability] perspectives, use the Fuel Insight for more accurate observations, and take data-driven policymaking and prioritised actions."
With Boeing, ANA has renewed the airframer's Maintenance Performance Toolbox contract, which it has been utilising for the past eight years.
It comes as the Star Alliance carrier works to streamline its maintenance processes through digitalisation.
The digital toolbox "allows operators to simplify their maintenance operations by enabling them to manage, distribute, process and view intelligent maintenance documentation in a uniform digital format through a single interface, regardless of aircraft manufacturer or engine type", says Boeing.
There are over 350 operators and MRO providers that make use of Boeing's Maintenance Performance Toolbox.
Says ANA's vice president, digital transformation portfolio management Hajime Kaneko: "[The toolbox] has greatly reduced the complexity of managing maintenance information for multiple airplane types across our entire fleet. We've seen efficiency improvements in our maintenance operations, and we'll continue to use Maintenance Performance Toolbox to take advantage of those benefits."
Separately, Boeing will provide cabin modification services for ANA affiliate Air Do. The services contract covers the carrier's fleet of 767 aircraft, and will see Boeing execute design engineering, certification and parts supply.