Asia Digital Engineering (ADE) — the AirAsia-linked MRO unit of Capital A group — has begun work to build a sprawling facility at Kuala Lumpur International Airport (KLIA), as it eyes expanding its maintenance capabilities to more aircraft types.
The new facility, which will span 380,000 sq ft (35,300 sq m), is located within the KLIA Aeropolis project, which is managed by operator Malaysia Airports. Work will commence in the middle of the year and is expected to complete within two years.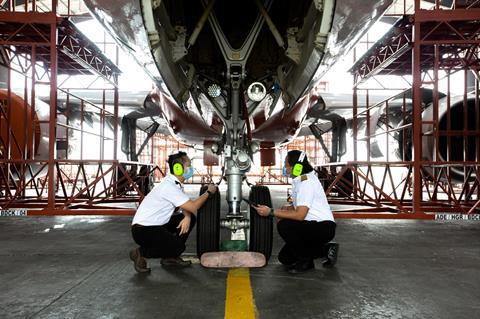 ADE adds that the facility is able to take up to 14 aircraft on heavy maintenance at any time, and includes "dedicated component workshops and a digital product development centre".
In comments following the announcement at the Singapore Airshow, ADE chief Mahesh Kumar says: "The Southeast Asia MRO industry…is expected to rebound swiftly when things return to the pre-pandemic level. ADE is ready to make a paradigm shift in the industry."
Mahesh adds that the MRO provider is "keen to" expand its maintenance capabilities beyond the Airbus A320 family and A330 aircraft that it currently works on.
"We are confident in our overall prospects to disrupt the aircraft maintenance industry in Asean creating jobs as we grow and delivering significant economic benefits across the value supply chain," he says.