Vietnam's Bamboo Airways has "expressed interest" in possibly ordering the Boeing 777X, as it eyes expanding its long-haul international network to 40 destinations by year-end.
Bamboo discloses that it had discussed with Boeing about the 777X at the Singapore Airshow, but declined to elaborate. It notes that the aircraft — if purchased — could expand its network to Australia, Europe and "especially" the USA.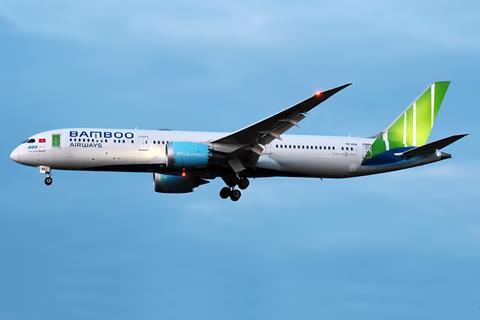 The airline is a Boeing widebody operator, with a fleet of three in-service 787-9s, with a further 10 examples on order. The airline also has a fleet of Airbus narrowbodies, as well as Embraer E190s.
At the airshow, Bamboo also inked a number of services-related contracts. With Boeing, Bamboo is tapping on the airframer's digital fleet management services for its entire fleet, a move it says will help "drive efficiency and reduce operating costs".
It also signed an engine MRO agreement with SR Technics. The contract, valued at $60 million, covers the maintenance of CFM International CFM56-5B engines, which power the Boeing 737 family aircraft that Bamboo does not operate.
It adds that the partnership "will create opportunities to promote the value and power of the highest standards of support solutions in the aviation ecosystem".
"Particularly, the agreement allows both parties to explore areas of cooperation including CFM56-5B engines, training services, technical services, and component requirements and repair," says Bamboo, which did not state if it was also looking to purchase 737s.
Separately, the carrier states that it is ramping up international flights, as Vietnam eases border restrictions for fully-vaccinated travellers.
Bamboo will launch Vietnam-Singapore flights from 24 March, and is also looking to fly to neighbouring Laos, Cambodia and further afield to the USA "in the future".