Boeing is to establish a 767-300BCF conversion line at ST Engineering's airframe facility in Guangzhou in response to growing customer demand for freighters.
The new line adds to the two additional 767-300BCF conversion lines Boeing announced last September at Guangzhou-based GAMECO.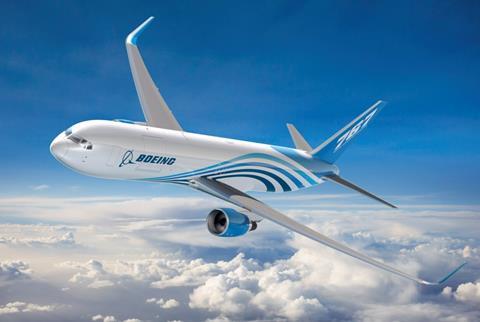 The new addition at ST Engineering's facility, announced by the US airframer during the Singapore Airshow, will be added during the second half of this year.
Boeing Global Services chief executive Ted Colbert says: "Boeing is pleased to further expand our strong and long-standing relationship with ST Engineering on the versatile 767-300BCF and its global customer base.
"ST Engineering has been an MRO supplier for more than forty 767-300BCF conversions and their technical expertise and commitment to the programme is recognised and greatly appreciated."
ST Engineering commercial aerospace president Jeffrey Lam says: "Our latest 767-300BCF conversion line will strongly augment the conversion capacity for the Boeing Converted Freighter. We look forward to replicating our long-term collaboration with Boeing by consistently delivering on time and high-quality conversions."
Boeing says the 767-300BCF has more than 100 orders and commitments from customers.
The US manufacturer's most recent market outlook forecasts a need for 1,720 freighter conversions over the next 20 years and sees Asia-Pacific-based airlines requiring 505 large and medium widebody freighters, both new-build and conversions, over that period.