Boeing's 737 Max completion and delivery centre in Zhoushan, China is ready to support deliveries of the narrowbody when they resume to the Mainland.
Stan Deal, chief executive of Boeing Commercial Airplanes, says that Chinese carriers are – as other 737 Max operators have done globally – conducting proving flights in China, to be followed by scheduled services.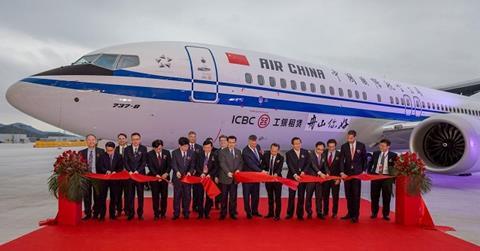 "We expect deliveries to resume after that," he says. "The Chinese government and our customers are going to determine that."
He notes that 737 Max aircraft bound for Chinese customers are in production at Renton. Once deliveries resume, Zhoushan is "spooled up… so we'll be able to deliver both out of Renton Field and our Zhoushan facility. That's our plan through the year."
Deal was speaking during a media roundtable on the eve of the Singapore air show.
His statement comes after Boeing chief executive Dave Calhoun's recent remarks that the company expects to resume 737 Max deliveries to China from the first quarter of this year.
The Civil Aviation Authority of China was one of the last major regulators to recertify the 737 Max, having been among the first to ground it in 2019 following a pair of fatal crashes.
The Zhoushan completion and delivery centre opened in late 2018, and delivered its first aircraft – a 737 Max 8 – to Air China in December of that year. The completions centre is a joint venture with Chinese airframer Comac, while the delivery centre is wholly-owned by Boeing.
Boeing had previously said that when fully up and running, the Zhoushan facility will install interiors and paint liveries, employ 300, as well as complete and deliver 100 737 Max aircraft annually to Chinese customers.
The 405,000sq m (4,400,000sq ft) centre is adjacent to the Zhoushan Putuoshan International airport, and was first announced in September 2015 during China president Xi Jinping's visit to the USA. Relations between the two countries have soured in recent years, however.
Cirium fleets data shows that Chinese operators have 208 737 Max aircraft on order, with around 75 of them stored at Washington's Grant County International airport, and small numbers of other aircraft stored at additional locations.