Embraer's urban air mobility unit Eve will partner with Skyports to develop a concept of operations for advanced air mobility in Japan.
The collaboration, announced during the Singapore Airshow, will see Eve and Skyports — an electric vertical take-off and landing (eVTOL) infrastructure provider — join hands with Japanese firms including Japan Airlines and trading company Kanematsu Corporation.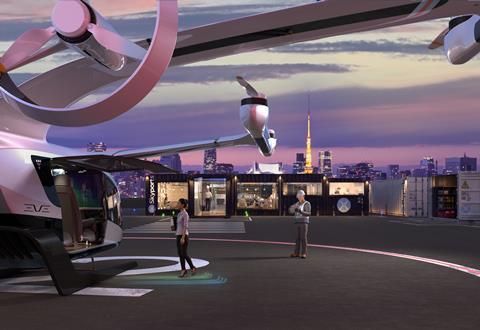 The concept of operations is being developed for the Japan Civil Aviation Bureau (JCAB), and aims to "provide a shared vision of airspace design, operation, infrastructure, and other benefits to enable [advanced air mobility] operation in Japan", says Eve.
Both companies tout their long-standing partnership in the area of urban air mobility — including in other countries —as advantage for the development of the concept of operations.
Says Skyports chief Duncan Walker: "Our partnership with Eve continues to provide an important means of helping authorities around the world understand and develop the optimum conditions to enable commercial electric air taxi operations."
Meanwhile, Eve co-chief executive Andre Stein adds: "Our collaborations have successfully designed distinct and optimised mobility ecosystems across the world, and we look forward to using this experience to help JCAB establish the concept of operations for Japan."
At the airshow, Eve boosted its eVTOL backlog by picking up a series of commitments from Australian operators.
Embraer says it now has nearly 2,000 letters of intent for its eVTOL aircraft, representing a potential value of $5.4 billion, from customers including airlines, helicopter operators, and lessors.
The airframer last year announced last year plans to float Eve on the New York stock exchange via a merger with listed business Zanite Acquisition Corp.