Indian regional carrier Alliance Air is to acquire a pair of new ATR 42-600s via lessor TrueNoord, adding to the airline's existing fleet of larger ATR 72 turboprops.
Alliance Air has chosen the turboprop to support services operating into challenging airfields in the Himalayas and delivery of the ATR 42s will begin mid this year.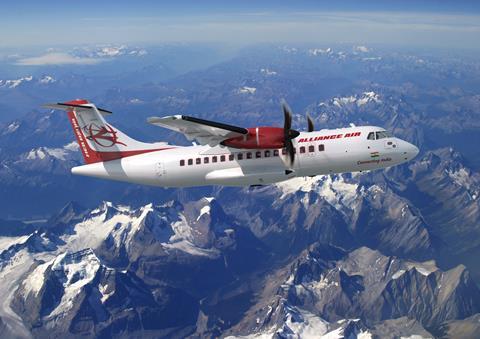 The airline already operates a fleet of 18 ATR 72-600s.
Alliance Air chief executive Vineet Sood says: "Our relationship with ATR started 20 years ago, and ever since we have been building a network that truly serves Indian communities. Thanks to the unique features of the ATR 42-600, Alliance Air will proudly fulfil the mission assigned by the Indian government to make the most inaccessible regions accessible."
The aircraft will operate on the short runways of the Shimla and Kullu airports, both located at high altitudes, and exposed to high temperatures.
ATR chief executive Stefano Bortoli adds: "The fact that we will deliver the aircraft by the middle of this year is testament both to the recovery of the Indian domestic market and the essential need for affordable and reliable connectivity throughout the country."
TrueNoord in December purchased two ATR 42-600s to support Silver Airways' development in the United States.