Singapore Airlines and low-cost unit Scoot have signed a long-term component MRO agreement with Collins Aerospace for Boeing 787 aircraft.
The contract — under Collins' FlightSense programme — will see the company provide the airlines with "full lifecycle support" for components including air management systems, sensors, generator systems, as well as emergency power systems.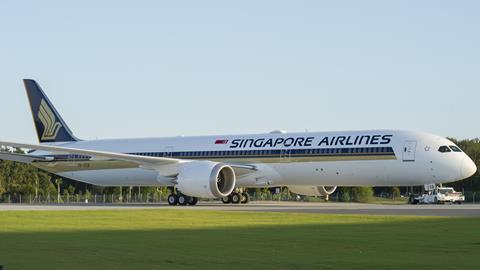 "Collins will provide the airlines with full life support for high-performance pool access, maintenance services and reliability upgrades," the company adds.
The agreement, signed at the Singapore Airshow, will also cover Scoot's new 787s which will be delivered in 2023. The low-cost carrier has been an existing Collin's customer since 2014.
Scoot operating chief Ng Chee Keong says: "This signing reinforces our well-established partnership with Collins Aerospace, which has remained robust amid the Covid-19 pandemic. During the current dynamic landscape, the ability to collaborate with our partners and adapt quickly is especially crucial."
Adds SIA senior vice president for engineering Lau Hwa Peng: "Our longstanding partnership with Collins Aerospace has provided our airlines with high quality maintenance and support services, even as we navigated the challenges brought about by the pandemic over the last two years."
Cirium fleets data shows that SIA has 15 in-service 787-10s, with another eight on order, while Scoot has 10 787-9s and seven 787-8s, with another seven aircraft on order.